Larry David has a message for all the idiots out there
Publish Date

Thursday, 2 April 2020, 6:44AM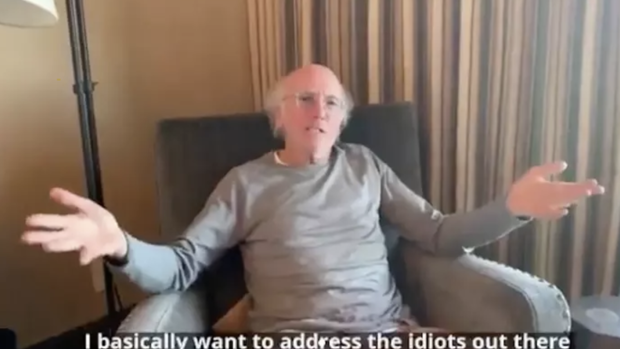 With the current coronavirus COVID-19 pandemic growing all over the world and in the US, many are doing their part in staying home — but if you're not, Larry David has some words for you.
In a new PSA shared by the California governor's office, The Seinfeld and Curb Your Enthusiasm creator is urging anyone ignoring California's stay-at-home order to cut it out and stay home, in the most Larry David way possible, of course.
First of all, he assured everyone that the PSA is "generally not the kind of thing" he does, but he felt compelled to "address the idiots" out there who are still socializing and ignoring the stay-at-home order. He said, "you know who you are — you're going out — I don't know what you're doing, you're socializing too close, it's not good."
He added, "You're hurting old people like me. Well not me, I have nothing to do with you, I'll never see you. But, you know, let's say, other old people who might be your relatives!"
Then he went on to explain that everyone in this category is missing a golden opportunity to "stay in the house, sit on the couch and watch TV!" He added, I don't know how you're passing that up! Well, maybe because you're not that bright, but here it is: Go home and watch TV! That's my advice to you."
He went on to explain, "If you've seen my show, nothing good ever happens going out of the house. You know that. There's just trouble out there. It's just not a good place to be."
Watch Larry David's full Stay At Home PSA above.

This article was first published on iheart.com and is republished here with permission