Radio Hauraki Brewery Tour - Day 2 Diary
Publish Date

Thursday, 7 June 2018, 4:36PM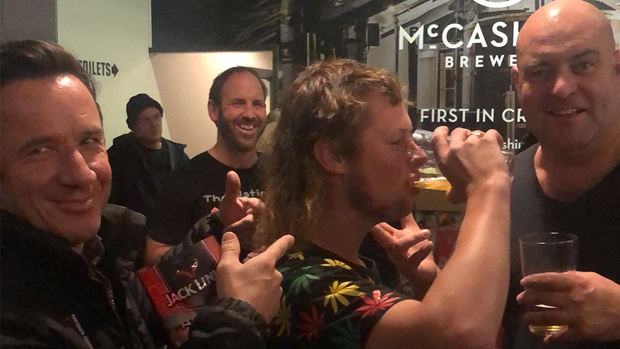 "G Lane? He's dead isn't he?"
"Isssssss hhhhheeeee???"

That's the conversation I thought people would be having the morning after the first stop on the Brewery Tour.

What seemed like all of Nelson and most of Blenheim had turned out at McCashin's Brewery to celebrate the beginning of the first ever Radio Hauraki Brewery Tour. We even were lucky enough to see some new Wakachangi soldiers we bottled and boxed and then sent off to war. Leigh & Jase both jumped behind the bar to pour pints for the locals and if the party wasn't in a brewery we probably would have run out of beer.

The people of the northern region of the mainland are a truly generous bunch and not shy/very persistent in shouting drinks for the Bhuja team and ACC & Hauraki Head G Lane. If there was a Motley Crue song that summed up the evening it would be the little known "Beers Beers Beers" (yes I know the song is actually called Girls Girls Girls but for the purpose of this story I've used some artistic license).

Speaking of tunes, Jon Toogood from Jonny Toogood and the Shihad's DJ set was the greatest DJ set that has happened at Brewery! One of the punters may be in the Nelson as you read this for lack of blood in the rest of his body after headbanging so hard to Refused. Who knew the Swedish Post-Punk band were so popular in sunny Nelson.

Another highlight would have been the young man wearing a "Me Oh My I Have Enjoyed That Yes Boy!" t-shirt floss dancing with Jon Toogood.
Then came the absinthe shots… Which brings us back to the fearless leader of the good ship Radio Hauraki, G Lane. A man not afraid to do anything and anyone for the good fo the station. So when a fan of the station offers G Lane a drink he shall not, he will not turn it down. For the good of the station!

My last memory of ACC & Hauraki Head G Lane was being removed from another establishment after jumping on the piano and serenading everyone in the venue with "Twinkle Twinkle Little Star". So it was a pleasant surprise to receive a text from him this morning "Taxi to the airport leaves in 5. Meet in reception."

We do it all again tonight at Fortune Favours in Wellington.

See yah there!

Massive thanks to the great New Zealanders at Jack Links for making the Brewery Tour possible. 

Words by Joseph Durie - Please direct all hate to Joe_Ray_Me on Twitter
Take your Radio, Podcasts and Music with you