Brendon McCullum takes fire at rival skipper George Bailey
Publish Date

Thursday, 11 January 2018, 9:40AM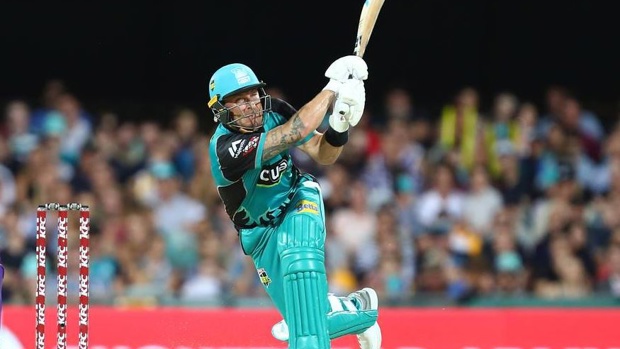 Brisbane Heat captain Brendon McCullum has accused Hobart Hurricanes captain George Bailey of missing an opportunity to uphold the spirit of the game after a controversial incident during a BBL clash at the Gabba.
Controversy raged after Brisbane Heat batsman Alex Ross was given out for obstructing the field when his bat hit the ball even though he was trying to avoid its path.
The dismissal came at a crucial point in the Heat's chase of 180, ultimately contributing to the team's last ball loss to the Hurricanes.
Bailey initially appealed for the run-out but expanded his appeal after seeing a replay which showed Ross had made his ground but looked to veer off his line.

Despite appearing to veer away to avoid getting hit instead of intentionally blocking the throw, Ross was still given out by the third umpire for obstructing the field.
McCullum said he disagreed with the third umpire's decision but aimed his frustrations at the Hurricanes captain.
"From our point of view I felt frustrated with that decision,'' McCullum said.
"Personally I don't think it was the right decision. We are not righteous in our stance on the spirit of the game but every now and then you get a chance to stand up to the spirit of cricket and tonight George and the Hurricanes missed that opportunity."
The Heat captain had long and animated discussions with Bailey after the match, both standing their ground on opposing sides of the argument.
"We debated the philosophical merits of one another points but in the end my view of it and his view of it may have altered,'' McCullum said.
"I don't really care what the rules are. To me it is one of those grey areas like the Mankad. To me it falls into the spirit of the game and I was making that point to George.
"He is quite entitled to do it differently. We are not righteous in our stance but I do feel he missed an opportunity tonight. In time I feel he will regret not making another choice.
"Sometimes there are opportunities which are more important than the two points.
"He (Ross) was trying to veer away from the ball and if you look at the rules it is about wilfully obstructing the field.
"He was running away from the path of the ball. He was not impeding the ball. I was disappointed the appeal for upheld."
Bailey after the game conceded he appealed for obstructing the field.
"I am learning for the rule as we speak,'' Bailey said.
"I appealed for the run out then when I saw on the replay Rossy changed his line we asked them to consider for obstructing the field as well.''
The two teams will meet again next week in what is promising to be a heated contest.

This article was first published on nzherald.co.nz and is republished here with permission.
Take your Radio, Podcasts and Music with you