Prime Minister Jacinda Ardern gives birth to baby girl
Publish Date

Thursday, 21 June 2018, 8:51PM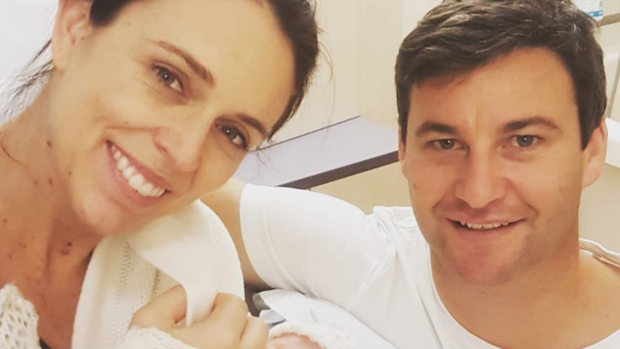 "Welcome to our village wee one," Ardern wrote on Instagram at 6.15pm on Thursday.
The little girl - whose name has yet to be announced - was born at 4.45pm.
"Thank you so much for your best wishes and your kindness. We're all doing really well thanks to the wonderful team at Auckland City Hospital."
Ardern, 37, posted a photo of the baby, alongside herself and partner Clarke Gayford.
"I'm sure we're going through all of the emotions new parents go through, but at the same time feeling so grateful for all the kindness and best wishes from so many people. Thank you," Jacinda Ardern said.
Both mum and the baby are doing well.
The New Zealand Labour Party have also congratulated the couple posting, "welcome to the team" on Instagram.
The Prime Minister's office will announce later when the family is due to leave hospital.
National Party Leader Simon Bridges said: "Natalie and I are delighted for Jacinda and Clarke. Being parents is a joy and a privilege and we are sure your new arrival will fill your lives with all the happiness our children have ours.
Congratulations to you both. Our family wishes yours every happiness."
Cabinet Minister and former Labour leader Andrew Little welcomed the baby by posting a video of him wearing a party hat, dancing and waving a sign saying "congrats".
The child's birth is significant; given she is the first child born to a female New Zealand Prime Minister, in power, in our country's history.
Ardern is the only current female world leader to now have a young child.
Although this is a first for New Zealand, Ardern is not the first woman in power in recent times to give birth while running a country.
Former Pakistan PM Benazir Bhutto gave birth to daughter Bakhtawar on January 25, 1990, while she was in office.
Bhutto also had an older daughter two years earlier just a few weeks before she took office in December 1988.
Queen Elizabeth II was also very much on the throne when she gave birth to sons Prince Andrew and Prince Edward after her coronation in 1952.
Her other children, Prince Charles and Princess Anne, were almost 4 and 2, respectively, at the time.
Before her, the Queen's great-great-grandmother, Queen Victoria, gave birth to nine children during her reign in the 1800s.
This article was first published on nzherald.co.nz and is republished here with permission.