Schwifty 'Rick And Morty' soundtrack album to be released on Sub Pop
Publish Date

Friday, 13 July 2018, 9:23AM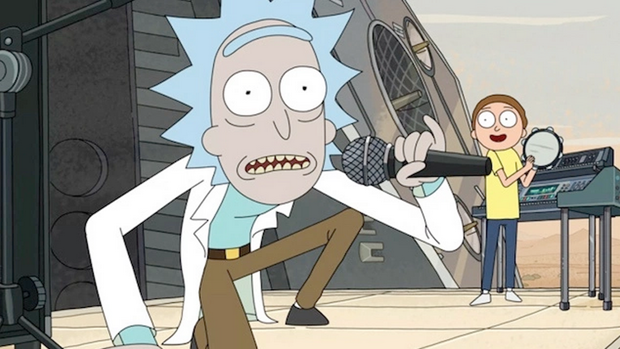 Sub Pop has added an exciting new artist to its lineup: Rick And Morty.
The Emmy nominated cartoon has had plenty of signature musical moments over the course of its first three seasons, and now they've been collected on a new soundtrack album, which is set for release on September 28 via Sub Pop. A CD and double LP edition will be also be available on that date, while a deluxe double album will be released on November 23, and includes a bonus 7-inch single that features "an extended mix of the screaming sun from the second season finale." Aside from songs by the cast, the album also features Blonde Redhead, Chaos Chaos, Mazzy Star, Clipping, Chad VanGaalen, and Belly.
The folks are Sub Pop are no strangers to TV or comedy: Their artist roster includes Bob's Burgers, Flight Of The Conchords, Jon Benjamin, and Eugene Mirman, after all. Rick And Morty is also familiar with success in the musical realm: "Terryfold," which is included on the soundtrack and is performed by Chaos Chaos featuring Justin Roiland, actually made it onto the charts last year, debuting at No. 33 on the Billboard Hot Rock Songs chart dated September 23.
1. "Rick and Morty Theme Song"
2. "Jerry's Rick"
3. "The Small Intestine Song"
4. "The Flu Hatin' Rap"
5. "African Dream Pop"
6. Mazzy Star — "Look On Down From The Bridge"
7. "The Rick Dance"
8. "Goodbye Moonmen"
9. "Summer and Tinkles"
10. Chaos Chaos — "Do You Feel It"
11. "Unity Says Goodbye"
12. "Get Schwifty (C-131)"
13. "Raised Up (C-131)"
14. Clipping — "Stab Him in the Throat"
15. "Help Me I'm Gonna Die"
16. "Let Me Out"
17. Chaos Chaos — "Memories"
18. Chad VanGaalen — "Stuttering Light"
19. "Alien Jazz Rap"
20. Blonde Redhead — "For The Damaged Coda"
21. "Fathers and Daughters"
22. Belly — "Seal My Fate"
23. Chaos Chaos — "Terryfold"
24. "Tales From The Citadel"
25. "Rick and Morty Score Medley"
26. "Human Music"
The Rick And Morty soundtrack album is out 9/28 via Sub Pop. Pre-order it HERE.
Take your Radio, Podcasts and Music with you