Russell Crowe's 'Art of Divorce' auction has raised $3.7 million
Publish Date

Monday, 9 April 2018, 10:10AM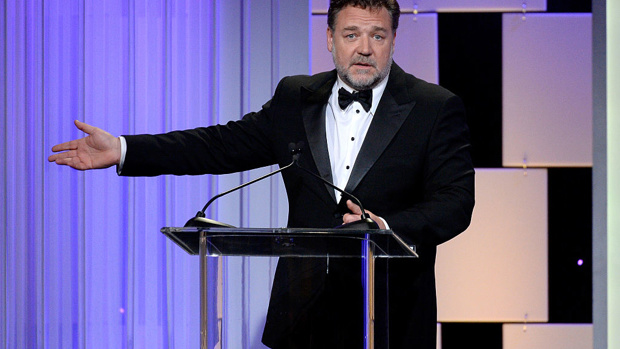 The 'Gladiator' star marked his 54th birthday on Saturday (07.04.18) by staging a huge auction of his belongings, including artwork, 28 watches, and movie memorabilia and was thrilled by the result - especially as he was able to keep hold of some of the items he "didn't really want to sell".
He tweeted after the sale in Sydney: "In case anyone is interested ... $3.7m at the coal face and around $350k of conversations ongoing ... and a bunch of stuff I didn't really want to sell coming home ... not a bad hourly rate for a  5 hour shift . Hope you are happy and busy (sic)"
A number of unusual items went to high bidders, with a jockstrap worn by the actor on 'Cinderella Man' selling for $7,000, despite an estimated price tag of $500-$600.
A dinosaur skull the 'Les Miserables' star bought from Leonardo DiCaprio fetched $65,000, while a pair of 18th century duelling pistols went for $26,000 and a bronze warship cannon sold for $20,000.
The famous breastplate worn by Russell in 'Gladiator' sold for a whopping $125,000, while its matching wrist cuffs sold for $32,000, a wooden sword for $20,000 and a metal one for $70,000, $5,000 more than a chariot from the film.
A range of Australian artwork also attracted high price tags, with various paintings selling for between $70,000 and $360,000.
Russell made a surprise appearance at the auction, appearing on stage after a rendition of 'Happy Birthday' and subsequent three cheers.
He then urged bidders wanting to buy an 1890 violin used in 2003 drama 'Master and Commander' to "lend it to a young musician so it carries on and starts to play in the concert halls around the world."
The instrument - which ultimately sold for $135,000 was then used by Australian Youth Orchestra member Bridget O'Donnell, who played two pieces from the movie, accompanied on the cello by Hanna Oblikov.
Russell - whose divorce from Danielle Spencer was finalised last year, five years after they split - previously admitted he'd had "fun" putting together the auction of over 200 items.
The 'Nice Guys' star - who has sons Charles, 14, and Tennyson, 11,  with his ex-wife - said: "Getting to this point with the divorce, and no matter how amicable a split is, you've still got to unwind things at a very deep level. I've never been someone who deconstructs things, I've always been someone who builds things, so it was quite a big lesson in life to become someone in life who can deconstruct things.
"I thought to myself, while I'm in the middle of doing that, how else can I do that? How else can I apply that. This is what I came up with.
"Actually it's been a lot of fun, this is almost like doing a full production. It's taken me 12 months, choosing the articles and how they balance with each other.
"It's been joyful. I'm kind of excited to see what happens."

This article was first published on BANG Showbiz and is republished here with permission.
Take your Radio, Podcasts and Music with you