Kurt Cobain Saw No Way Out Of His Depression Spiral: Disgraceland - Part 2
Publish Date

Monday, 1 April 2019, 12:07PM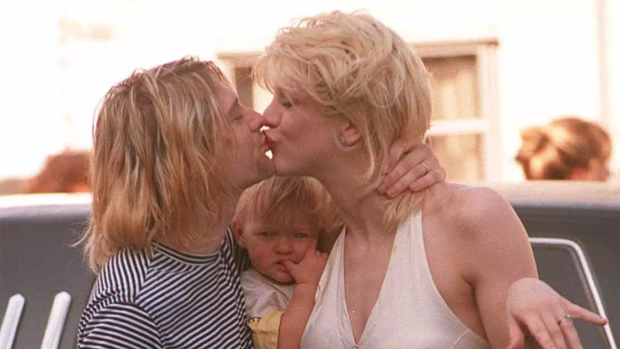 Kurt Cobain always wanted to have a family.
It was one of many things he grew up without, and one of the few things being the biggest rockstar in the world couldn't get him.
In a way, being the voice of a generation may have cost Cobain his chance at fatherhood.
On part 2 of Disgraceland's "Kurt Cobain And Courtney Love: No Direction Home" documentary podcast, host Jake Brennan explores Courtney Love's unconventional upbringing, rise to stardom and toxic romance with her husband.
No one walked the line of being purely punk rock and a total rock star like Love did. She was ferocious and fearless both on and off stage, militantly feminist and never sugar coated anything in the press. Her band, Hole, was the first female-fronted band to be the subject of a major label bidding war, and she was a star before Hole's first album even arrived.
Love was mold-breaking, explicit and her shock-and-awe interviews were like fodder to the rock press. But like her husband, Love also struggled with a drug habit. It was par for the course in rock 'n' roll at the time, but it was less intriguing when she was a mother-to-be.
Love had a nasty habit of bragging about her drug use. It never got her into much trouble, until she accidentally revealed to Vanity Fair that she went on a heroin binge in New York City while she was pregnant with Frances Bean. Vanity Fair corroborated the story with more than 20 unnamed industry sources, and when it was published, Cobain and Love's life together was never the same.
"The press revolted," Brennan says. "No more f---ing around; the safety of a kid was at risk. Articles popped up everywhere condemning the rockstar couple's behavior. Kurt and Courtney went into a war-like posture and denied everything. [They] claimed Vanity Fair misquoted them, made the story up to sell magazines. Vanity Fair stood by their writer, Lynn Hirschberg."
Listen to part one HERE!!
Take your Radio, Podcasts and Music with you