Eminem once accidentally flashed his penis to Val Kilmer
Publish Date

Wednesday, 30 May 2018, 10:00AM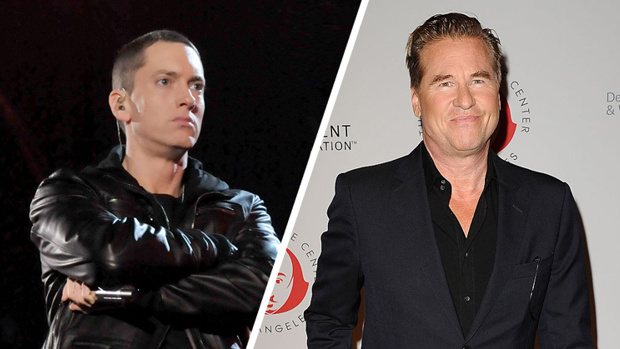 Eminem once accidentally flashed his penis to Val Kilmer.

The 45-year-old rapper - whose real name is Marshall Bruce Mathers III - has been dwelling over the embarrassing incident since 2010 when he whipped down his underpants to change ahead of his performance at the Video Music Awards and saw the legendary actor, 58, sat in 50 Cent's trailer staring at him through the window.

Taking to his Instagram account on Monday (28.05.18), he recalled: "Alright, so here, this is like a confessional.
"I have something on my mind that's been bothering me for years. I will tell you a little story: 2009/2010, I was at the VMAs and my trailer was next door to 50 Cent's trailer and I went to the back to go change for the stage and as I take off my underwear, I look across and in 50's trailer, right even with me, is Val Kilmer sitting like this [slumped] in a chair. And I know he looked at me and I know he looked away because he saw me looking at him.
"I know Val Kilmer saw me naked. I just had to get that off my chest."

That wasn't the only confession the 'Lose Yourself' hitmaker has made recently as he told his fans at his concert in Boston on Sunday (27.05.18) that he wants to date Nicki Minaj after they sparked rumours that they were in a relationship last week.

He said: "Boston, how many of you want me to date Nicki Minaj? Well, god dammit, me too. Nicki, if you get this message, just text me later, we'll talk about it."

Nicki, 35, later took to her Twitter account to respond to his proposal.
She said: LMFAOOOOOOOOOOOOOOO. The fact that he's silly & a goof just like me. Love him so much. Em we need you on the #Queen album. That's where our 1st date will be; at the studio while I gaze into ur beautiful eyes as u write ur verse (sic)."

This article was first published on BANG Showbiz and is republished here with permission.
Take your Radio, Podcasts and Music with you