Dita Von Teese considered buying her ex Marilyn Manson a striptease candle
Publish Date

Thursday, 18 January 2018, 8:54AM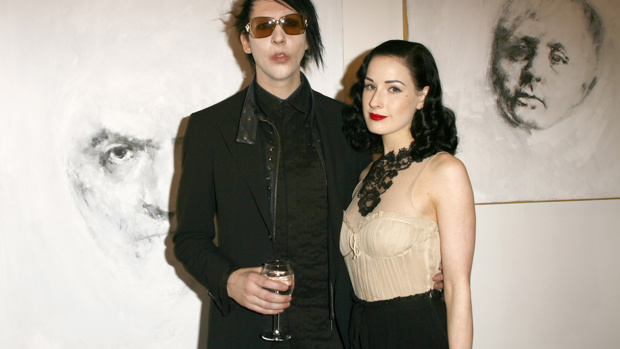 Dita Von Teese considered buying her ex Marilyn Manson a striptease candle so he could always see "what he doesn't have any more". 
The 45-year-old burlesque dancer was married to the heavy metal singer - who turned 49 on January 5 - from 2005 to 2007, and while she was initially trying to get the split out of her mind, the pair are pals again and he invited her to his party this year. 
She said: "He was like, 'You've got to bring a gift.' I was thinking maybe I could take this striptease candle, so he can look all the time at what he doesn't have any more.
"A lot's changed in ten years. He and I are friends now." 
Dita - who filed for divorce from Marilyn in late 2006, citing "irreconcilable differences" - is now dating graphic designer Adam Rajcevich and is keen to have kids by the time she turns 50, but admits she would also consider adopting. 
She said: "I've just had my annual exam and the doctor was like, 'I'm about to deliver a baby to a 51-year-old woman.' I was like, 'Are you serious?' 'Yeah, things are changing.' 'OK.' 
"I've got five years left if I want. And I could always adopt."
Dita admits she has been "lucky" to avoid any abusive episodes in the entertainment industry in her career, and puts it partly down to always having "very distinctive boundaries". 
She added to the Daily Telegraph newspaper: "I always had a boyfriend that I would drag along, and I always travelled with assistants. 
"I remember someone spiking my drink once, and wondering, 'Why am I awake 15 hours later after the show?'
"Things like that would happen to me occasionally, but nothing that was really bad. I always had very distinctive boundaries. I guess I've been lucky. 
"And, I was my own boss, so I didn't have to feel obliged to accept jobs.
"I just dropped a deal to do a project here because I thought, 'I don't need this guy breathing down my neck and asking me to go to dinner. I'm not desperate.' "

This article was first published on BANG Showbiz and is republished here with permission.
Take your Radio, Podcasts and Music with you