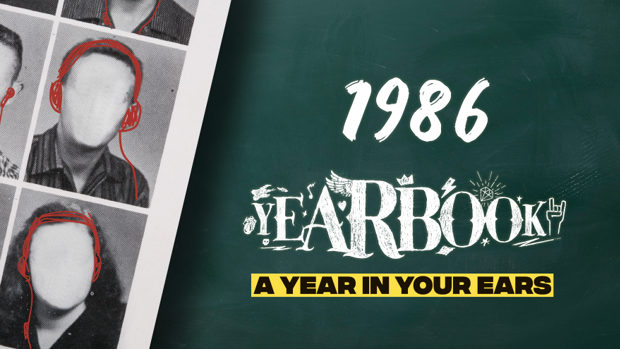 In 1986 Dave Dobbyn, Tim Finn and Billy T James spent nine weeks at the top of the charts, with "Sailing Away", released just in time for the America's Cup. It was Number One here for longer than any other kiwi song, until 2009.
Dire Straits played at Western Springs in Auckland, a young ACC head and now Hauraki head G Lane, before he was all those things, was there… He said the guy in front of him had a funny-smelling cigarette
Bob Dylan and Tom Petty played in Wellington.
There was a benefit show for Greenpeace after the Rainbow Warrior bombing, at Mt Smart Stadium in Auckland. Neil Young did some acoustic tunes, Split Enz reformed for it, and Dave Dobbyn played with the Topp Twins.
A Soviet cruise ship struck rocks, and sank in the Marlborough Sounds.
In the Ukraine a nuclear power station exploded , causing a huge disaster – as recreated in last year's dramatic TV series.
Two women threw eggs at the Queen, as she walking through Ellerslie racecourse in Auckland. The Black Caps finally clinched their first series win on English soil with an eight-wicket victory in the second Test at Trent Bridge.
Mike Tyson became the youngest Heavyweight Champion in history, we looked to the skies for Haley's comet and GST became a thing.
We felt the need to watch 'Top Gun' at a cinema, 'Crocodile Dundee' and 'Footrot Flats: The Dogs Tale', saw Wal Footrot and his dog, whose name was: Dog – brought to life on the big screen, and cemented as great New Zealanders, courtesy of Dave Dobbyn and Herbs.

Angelina's Top 9 Songs of the Year


Greg Prebble's Feature Album

Take your Radio, Podcasts and Music with you