Watch Dave Grohl, Greg Kurstin cover Bob Dylan's "Rainy Day Women #12 & 35"
Publish Date

Wednesday, 16 December 2020, 1:25PM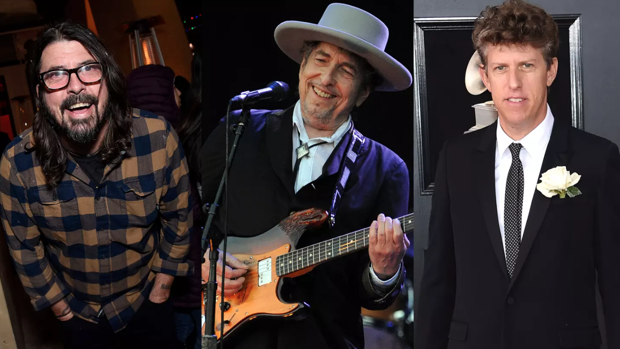 It seemed like only a matter of time until Dave Grohl and Foo Fighters producer Greg Kurstin got around to sharing a Bob Dylan song in their ongoing 'Hanukkah Sessions' series of covers, and that day has finally arrived.
On Monday evening, Grohl and Kurstin shared their faithful rendition of Dylan's 1966 speakeasy stomper "Rainy Day Women #12 & 35."
The 'Hanukkah Sessions' is Grohl's way of paying tribute to diverse contributions to music by Jewish artists in the 20th and 21st centuries, with one of his favorite Jewish musicians, Kurstin.
With the Dylan cover, Grohl and Kurstin have now covered songs from the '60s, '70s, '90s, '00s and '10s.
Watch the video in the player below!
Grohl and Kurstin kicked off their series last Thursday with a caffeine-fueled rendition of The Beastie Boys' '94 hit "Sabotage." They quickly zagged with a version of Drake's 2015 memey mega-hit "Hotline Bling," zigged back to hard rock with Mountain's 1970 classic "Mississippi Queen" and swerved into left-field with a rendition of Peaches' 2000 electroclash standard "F--- the Pain Away," which featured Peaches herself.
As perhaps America's most successful singer-songwriter in history, a Dylan cover seemed unavoidable for Grohl and Kurstin.
Born Robert Allen Zimmerman, Dylan legally changed his name in 1962 when he signed his first record deal. After becoming a folk hero, rockstar and icon of the '60s protest movement, Dylan converted to Christianity in the late-'70s. By the mid-'80s he described his religious views as more complicated than a single label could describe.
Dylan's sons each reportedly had Bar Mitzvahs and Dylan himself has publicly supported the Chabad-Lubavitch movement. In later years, Dylan has supported both Christian and Jewish causes and organizations, and continued performing Gospel songs in concert on occasion.
This article was first published on iheart.com and is republished here with permission