UMO & Questlove join social media debate defending Meg White's drumming ability
Publish Date

Wednesday, 15 March 2023, 1:46PM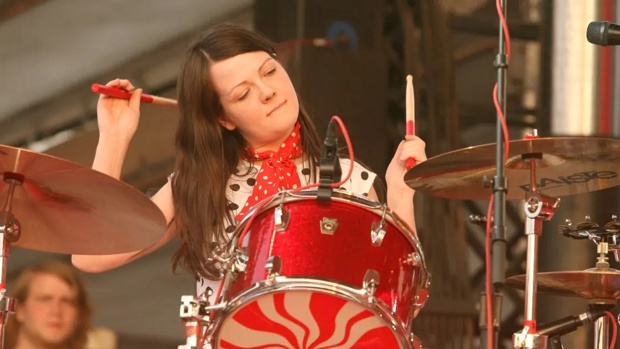 Questlove has entered the social media debate over the drumming of The White Stripes' Meg White, defending her ability.
White, who formed The White Stripes with Jack White and went on to become one of the most successful bands of the 21st century, has often been criticised for her drumming style.
In 2002, White said of the criticism: "I appreciate other kinds of drummers who play differently, but it's not my style or what works for this band. I get [criticism] sometimes, and I go through periods where it really bothers me. But then I think about it, and I realise that this is what is really needed for this band."
The discourse around White's drumming was revived recently by Twitter user Lachlan Markay, who, when replying to a tweet about the genius of 'Seven Nation Army', commented: "The tragedy of the White Stripes is how great they would've been with a half decent drummer.
"Yeah yeah I've heard all the 'but it's a carefully crafted sound mannnn!' takes. I'm sorry Meg White was terrible and no band is better for having sh*tty percussion."
After the conversation began trending, The Roots' drummer Questlove shared his appreciation for White.
He tweeted:
Elsewhere, other musicians also came to White's defence, including Against Me! singer Laura Jane Grace, who wrote: 
Portishead's Geoff Barrow also chimed in, saying he believes the user in question is "going to regret this tweet".
In response to Barrow, Unknown Mortal Orchestra's Ruban Nielson tweeted: "But we have multiple examples of [Jack White] playing with different drummers. i saw the white stripes play probably 10 times or something and there's no one like meg white. kids would lose their mind to her drumming."
In a separate thread, he added: "not enough people have discussed exactly why meg white was a good drummer. my two cents are firstly: impeccable taste and cool. secondly: elastic and intuitive sense of time. she felt what the audience wanted and played it. very very rare in even the best drummers
"reminds me: when i was just a kid i found myself hanging backstage with meg white and she was draped across a couch in full skintight leather and gave me a bottle of jameson."
This article was first published on nme.com
Take your Radio, Podcasts and Music with you