Trent Reznor denounces Marilyn Manson amid mounting abuse allegations
Publish Date

Friday, 5 February 2021, 8:46AM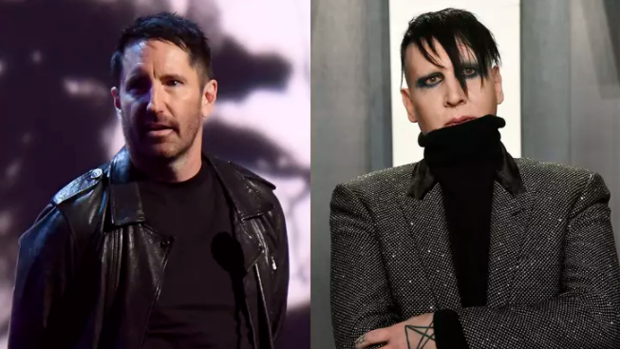 Nine Inch Nails mastermind Trent Reznor is condemning his former collaborator Marilyn Manson following multiple allegations of abuse against the shock rocker.
Reznor signed Manson to his Nothing Records label in 1994 and was credited as a producer on Manson's first two studio albums.
In a statement released Wednesday to Pitchfork, Reznor explained that he's kept his distance from Manson for more than two decades. He also denied a section from Manson's 1998 biography in which Manson describes taking advantage of an inebriated woman with Reznor, the night before signing the record deal.
"I have been vocal over the years about my dislike of Manson as a person and cut ties with him nearly 25 years ago," Reznor said through his statement. "As I said at the time, the passage from Manson's memoir is a complete fabrication. I was infuriated and offended back when it came out and remain so today."
Screenshots of the passage in question began circulating via Twitter after actress Evan Rachel Wood and multiple other women came forward with allegations that Manson abused them.
The passage in question is supposedly part of an unpublished mid-'90s interview with Empyrean Magazine. Manson shared the story after he was asked how he began working with Reznor. The interview was never published due to objections from the magazine's publisher.
If the story is untrue, it would not be the first time Manson fibbed about his past to the press; he's often claimed to have dreamt up aspects of his Manson persona as a way to distance himself from his troubled youth.
Wood was engaged to Manson in 2010 and alleged earlier this week that the singer groomed and "horrifically abused" her for years.
"I was brainwashed and manipulated into submission," she said. "I am done living in fear of retaliation, slander or blackmail."
Manson has denied the allegations, writing in a statement: "My intimate relationships have always been entirely consensual with like-minded partners. Regardless of how — and why — others are now choosing to misrepresent the past, that is the truth."
TMZ reports that police were called to Manson's residence on Wednesday for a welfare check; he told officers he was fine.
Reznor famously expressed his distrust of Manson in a 2009 interview with Mojo magazine, calling him "a malicious guy and will step on anybody's face to succeed and cross any line of decency. Seeing him now, drugs and alcohol now rule his life and he's become a dopey clown."
Manson claimed in 2017 that the two had reconciled via email.
Evan Rachel Wood has testified before Congress in support of the Sexual Assault Survivors Bill of Rights. She did not name Manson as her abuser until this week.
Manson's record label and touring agency have both cut ties since the allegations came to light.
This article was first published on iheart.com and is republished here with permission
Take your Radio, Podcasts and Music with you