Travis Barker reveals he torea a tendon in his hand and needs surgery
Publish Date

Wednesday, 24 March 2021, 9:26AM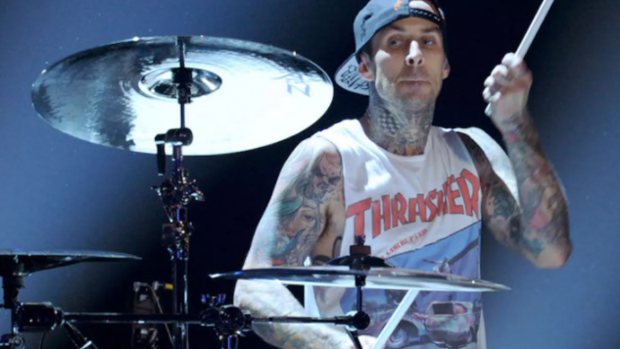 A torn hand tendon is never good — especially when you're a drummer. Travis Barker recently sat down with GQ to discuss his vegan diet and the topic of exercise came up.
"I absolutely work out every day, with the exception of one day a week," he explained before revealing his injury. "My workouts can fluctuate from boxing and high intensity interval training to Muay Thai—which I can't do right now because I recently tore a tendon in my hand. (I have to have surgery in a few weeks.) Some days could just be a run, 6 or 7 within an hour. Recently I've been working out with Don-A-Matrix, and that has been intense."
The news doesn't sound good; however, Barker's nonchalant mention of it must mean it's not too serious. Regardless, we wish him a speedy recovery (and hope he's finished tracking drums on blink-182's upcoming album).
Barker's already confirmed blink will be releasing an album this year and last month said it was "60 percent" done.
"There's a lot of cool stuff, like a song with Grimes right now that's really, really cool that I love. There's a song with Uzi that's really, really cool that we did with Pharrell," he said at the time.
Though these artists don't fall into the rock category, Barker assured that the band is still very much making pop-punk music. "I mean, it's not like blink's making a rap song or anything. It's like bringing Uzi over to our world," he said. "So it's more of a punk kind of like reggae feeling song. And yeah, I mean, I don't think blink will ever be anything but like a pop-punk band."
The new album will follow 2019's NINE.
This article was first published on iheart.com and is republished here with permission