TOP 5 LONGEST CHARTING ALBUMS OF ALL TIME
Publish Date

Tuesday, 7 March 2023, 3:00PM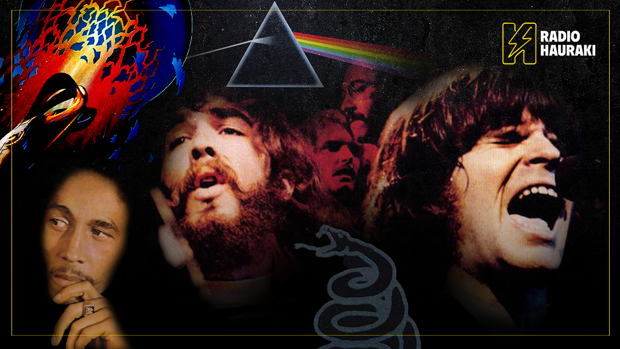 1. Pink Floyd – Dark Side of the Moon (1973)
Since its upgrade from an initial weekly top 10 ranking to its iconic top 200 list in May 1967, the Billboard 200 has remained the definitive barometer for chart success in the music world. Over the ensuing decades, as physical sales have dwindled and the manner in which fans consume music has evolved, Billboard's status as a music industry powerhouse has remained intact, not least thanks to the enduring success of some of the most iconic albums in music history.
Many major artists have seen certain albums remain on the Billboard 200 since their initial release - an incredible feat in some cases, given than some of these records have been out for twenty, thirty, forty years or more. With that in mind, here are the 20 current longest-charting albums on the Billboard 200, from rock legends to pop idols and more.
Come September 2023, this particular Pink Floyd masterpiece topped the US album chart and will have dominated the Billboard 200 for a staggering 1000 weeks. This richly-layered, ambitious concept album has sold at least 45 million copies since its release in 1973, making it the biggest-selling album recorded by a British band. 
2. Bob Marley & the Wailers – Legend (1984)tt
Released three years after Bob Marley's death from cancer, Legend is a compilation of their hitt singles released between 1972 and 1983. Including iconic tracks such as No Woman, No Cry, Buffalo Soldier, I Shot the Sheriff and Three Little Birds, it remains the best-selling reggae album of all time. As of March 1, 2023, Legend will been a fixture in the Billboard 200 for 771 weeks. 
3. Journey – Greatest Hits (1988)
Collating Journey's biggest singles released between 1977 and 1986, Greatest Hits has notched up 750 weeks in the Billboard 200 to date and has received a 15-times platinum certification from the Recording Industry Association of America. Featuring perennial favourites like Don't Stop Believin' and Any Way You Want It, Greatest Hits is positively heaving with AOR classics.
4. Metallica – Metallica (1991)
After the labyrinthine and exhaustively long songs on their 1988 album ...And Justice For All, Metallica returned to the studio with Mötley Crüe producer Bob Rock and signalled a shift in their approach to songwriting and the sonic weight of their recordings. Costing over $1 million to make, the results were immediate following the release of The Black Album in the summer of 1991. As the album nears 700 weeks in the Billboard 200, no other metal band has come within sniffing distance of Metallica's landmark album.
5. Creedence Clearwater Revival – Chronicle (1976)
Chronicle: The 20 Greatest Hits, to give it its full name, actually features 13 of the Creedence Clearwater Revival's singles – including Proud Mary, Bad Moon Rising and Fortunate Son – and a handful of B-sides. This 1976 release follows two other compilations Creedence Gold and More Creedence Gold which emerged after the band's split in 1972. Chronicle, however, remains the band's biggest-selling release and has clocked up 627 weeks on the Billboard 200 charts as of March 1, 2023. 
Take your Radio, Podcasts and Music with you