Tom Morello & Serj Tankian team up to cover Gang Of Four's "Natural's Not In It"
Publish Date

Friday, 8 January 2021, 5:23PM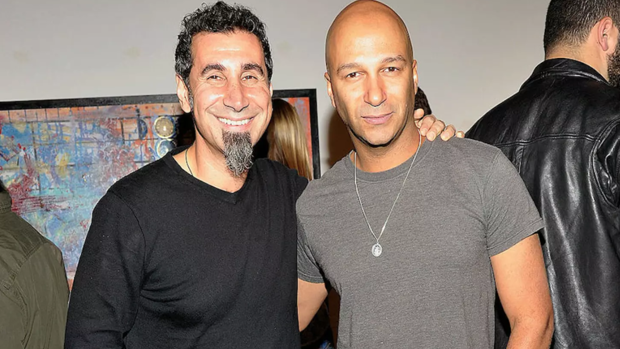 Tom Morello and System of a Down's Serj Tankian have teamed up for an explosive cover of Gang of Four's "Natural's Not In It." The track is the first single unveiled from an upcoming tribute album, The Problem of Leisure: A Celebration of Andy Gill and Gang of Four.
"Andy Gill was one of a handful of artists in history who changed the way guitars are played," Morello said in a statement. "His band Gang of Four were just incendiary and completely groundbreaking with Andy's confrontational, unnerving and sublime playing at the forefront. His jagged plague-disco raptor-attack industrial-funk deconstructed guitar anti-hero sonics and fierce poetic radical intellect were hugely influential to me."
"It was a real pleasure to work on this track with Tom and honor the legacy of Andy and Gang of Four at the same time," Tankian added.
Gill died unexpectedly on February 1, 2020 at the age of 64.
"Andy loved what Tom and Serj did with this song, the fierceness of their attack and the jet-engine scream of feedback," Gill's widow, Catherine Mayer, said in a statement. "This was a track Andy always enjoyed performing. He said their version brilliantly captured all the explosive, danceable energy 'Natural's Not In It' can create in live performance."
Mayer added that Gill originally started the project in 2019 as a way to celebrate the 40th anniversary of Gang of Four's debut album Entertainment!; however, passed away before it could be finished. "Andy was massively excited about this project. It wasn't of course conceived as a tribute album, but it's comforting to me that he lived to see artists he hugely admired enthusiastically agreeing to participate, signaling that the admiration was mutual," she said.
The Problem of Leisure is slated for a May 14 release. The full tracklist will be revealed on January 14. Listen to Tankian and Morello's take on "Natural's Not In It" HERE.
This article was first published on iheart.com and is republished here with permission