Tom Morello looks back on Rage Against The Machine's naked onstage protest
Publish Date

Wednesday, 16 December 2020, 1:21PM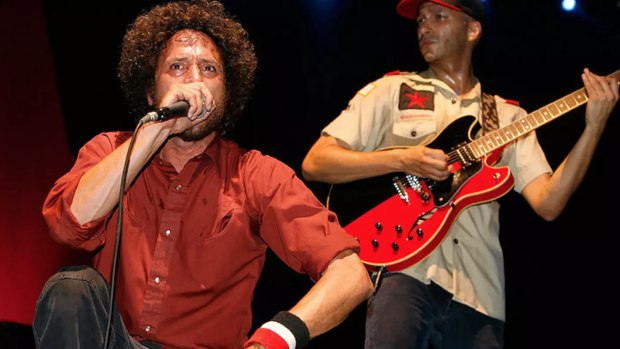 One of the most legendary moments in Lollapalooza history was in 1993, when Rage Against the Machine staged a 15-minute-long naked protest instead of playing their scheduled set.
Zack de la Rocha, Tom Morello, Tim Commerford and Brad Wilk all took the stage, completely nude, with the letters PMRC (Parents Music Resource Center) written on their torsos and black electrical tape covering their mouths to protest the festival's censorship. Guitar feedback was the only sound that came from the stage. During a recent interview with Uncut magazine (via Kerrang!), Morello recalled the crowd's reaction to their stunt.
The guitarist remembered there being "an outpouring of excitement among the crowd for the first five minutes," which turned into ​"an interesting stand-off as it was clear this was not just some sort of quick stunt. Then for the last five minutes there was outright hostility – booing and giving us the finger and quarter coins being thrown at our d**ks."
"The time I wish I had my pants on was when the police arrived," he added.
Back in August, Morello commemorated the 29th anniversary of the band's first rehearsal with a throwback photo on Instagram. Fans were looking forward to seeing more RATM shenanigans during their reunion tour this year, but like so many other bands their plans were thwarted by the COVID-19 pandemic.
This article was first published on iheart.com and is republished here with permission