The Strokes play baseball versus androids in "The Adults Are Talking" music video
Publish Date

Saturday, 5 December 2020, 1:11PM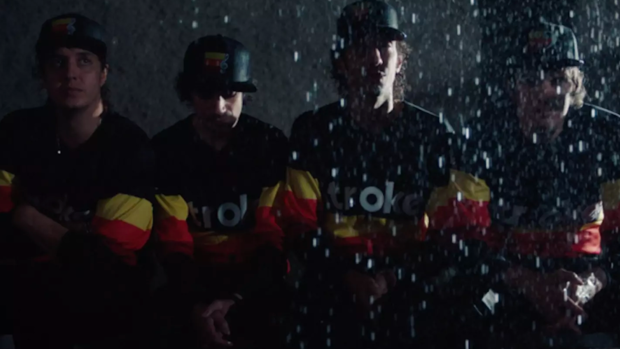 The Strokes find themselves between a rock and a hard place in the video for "The Adults Are Talking." Set in a future populated by superhuman androids, the band is playing — and losing badly — to a team of robots. But not all hope is lost. After a few miracles, the rockers record a run. The score's still 1-56, but in "the new abnormal" that's reason to celebrate, and celebrate they do — popping bottles of champagne right there on the field.
The clip was directed by Francis Ford Coppola's son, Roman Coppola, who worked with the band on several videos during the Is This It era. Watch the dystopian video below.
"The Adults Are Talking" is featured on The Strokes' Billie Eilish-approved sixth studio album, The New Abnormal, which came out earlier this year. The collection is up for Best Rock Album at the 2021 Grammy Awards, marking the band's first Grammy nomination.
The Strokes performed "The Adults Are Talking" on Saturday Night Live in October. It was their first appearance on the comedy sketch show in nearly a decade.
Though The Strokes haven't announced any more live performances for 2020, they were recently announced as a headliner for Outside Lands 2021, along with The 1975 and Vampire Weekend. The festival is set to take place August 6-8, 2021 at San Francisco's Golden Gate Park.
This article was first published on iheart.com and is republished here with permission