Surviving members of Van Halen pay tribute to Eddie Van Halen
Publish Date

Thursday, 8 October 2020, 9:48AM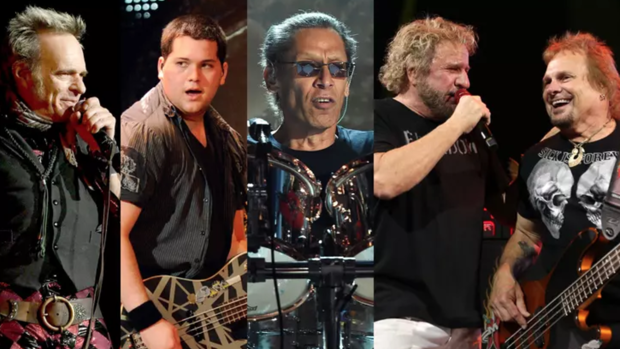 The news of Eddie Van Halen's death Tuesday sent ripples through the entire music universe.
But beyond being a rock icon and one of the 20th century's most innovative guitarists, Eddie was a family man.
Eddie started Van Halen alongside his brother Alex Van Halen in 1972 and after parting ways with Sammy Hagar and Michael Anthony in 2005, brought in his son Wolfgang Van Halen as the band's bassist.
Despite whatever differences the brothers Van Halen had over their years with their band mates — Hagar, Anthony, David Lee Roth or Gary Cherone — each musician fondly recalled the time they had with Eddie.
Wolfgang confirmed the news that his father had lost his long battle with cancer early Tuesday afternoon in a heartbreaking statement, accompanying a candid shot of his dad.
"He was the best father I could ever ask for. Every moment I've shared with him on and off stage was a gift," Wolfgang wrote." My heart is broken and I don't think I'll ever fully recover from this loss. I love you so much, Pop."
Later in the evening, Wolfgang left appreciative comments below other loving remembrances of his father, thanking the likes of Slash, Brian May, Hagar, Anthony and others for their kind words.
On Wednesday, Wolfie shared a captionless shot of himself and his dad jamming in what appears to be a dressing room during one of the last Van Halen tours.
Roth shared a black & white photo of himself and Eddie together backstage at an arena somewhere. The co-founder and frontman wrote simply, "What a Long Great Trip It's Been."
It's no secret that Roth and the Van Halen brothers have had their differences over the years, but it appears last year's rumored Van Halen tour didn't come to fruition for any reason other than Eddie's failing health.
Roth returned to the road this year, claiming it was his mission to carry on the Van Halen legacy. He's slated to get back to it next year if KISS's 'End of the Road' tour is able to resume.
While Hagar was admittedly frustrated that he and Eddie couldn't rekindle their partnership for one last go-around for the fans, he insisted that he still has plenty of love for his former bandmates.
"Heartbroken and speechless," he wrote in the caption of a shot of himself and Eddie. "My love to the family."
Anthony confirmed last year that acrimony between himself and the Van Halens had subsided and he was going to take part in a reunion with the band had Eddie's health allowed. He paid tribute to his bandmate of 32 years with a series of photos depicted them onstage together.
"No words...Heartbroken, my love to the family," he wrote."
While Cherone's Van Halen tenure was short-lived, the Extreme singer is no less grateful for the time he shared with one of his favorite bands.
"Whether you were blessed to have known him or not, he was a kind and gentle soul..." he wrote in a black & white throwback. "His impact on ALL our lives was immeasurable! His music, eternal! My deepest sympathies to the Van Halen family... Love you Ed."
This article was first published on iheart.com and is republished here with permission