Slash reflects on how he reconciled with Axl Rose years after GNR breakup
Publish Date

Saturday, 8 January 2022, 10:37AM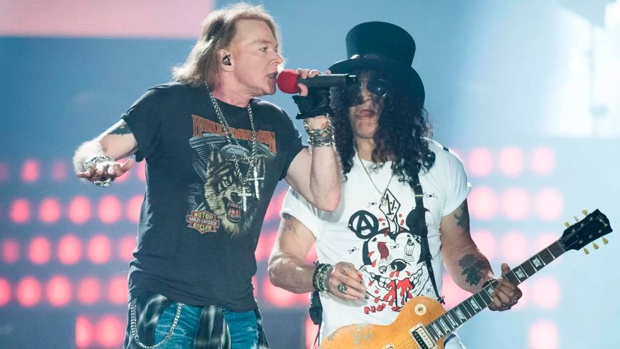 It's hard to believe that Slash and Duff McKagan have been back in Guns N' Roses for nearly six years, and the rekindled partnership with Axl Rose has resulted in no drama.
Slash and McKagan feuded with Rose for longer than the entirety of their first go-around in GNR, but all three parties grew up in their years apart and were able to pull off a seamless reunion (and one of the most lucrative tours of all-time).
Despite some setbacks along the way, Slash tells Classic Rock magazine that his career has "been f---ing awesome." It's a realization that no doubt played into his and Rose's reconciliation and the optimism around the future of their partnership.
Slash looked back at his earliest jam sessions with what became Guns N' Roses. He says the early components of the band were exactly what he was looking for at the time.
"It would have been a band that I would have listened to had I not been in it..." he explained. "But I saw it as being a cool cult band. I didn't have any fantasies of it being anything super-huge. So none of us, I think, was prepared for what it turned into when it did [take off].
"I thought it was a great band with a certain energy and a certain chemistry, but I didn't know that one record [Appetite for Destruction] would become what it became — that it would sort of transcend..."
GNR's story from there is a well-worn tale of too much, too young, too fast. Drugs, fame and money fueled the band's rise, it's eventual breakup and the hard feelings that lingered for some 20 years.
The reunion, on the other hand, came from a more mature place. Slash says he agreed to the initial run of shows with no expectations for how it would work long-term. But after taking the stage at Coachella in 2016, he says the new GNR felt like "a magical kind of thing... an overwhelmingly positive experience."
"When we got together, Axl and I really got over this major sort of hump of negativity that we've been carrying around for years and years," he said. "It was a real simple, relatively short conversation that we had… In all these years that we've been apart, he's become super-f---ing professional. And he's never missed a beat during this whole time. So it's been great. There has been a sort of synergy that's been happening this last six years that we never had in our first incarnation."
Slash has often praised Rose's work ethic in recent years, and he's not alone. In a 2019 interview with Q104.3, McKagan described the singer's conduct as "inspiring."
The good feelings helped the band bring to fruition their first new material in years — a pair of singles released this past fall.
Slash says the band is continuing to work on new material and will have an "entire record's worth of stuff" ready before long.