Slash confirms Guns N' Roses hasn't written new music since 2016 reunion
Publish Date

Wednesday, 27 October 2021, 7:26AM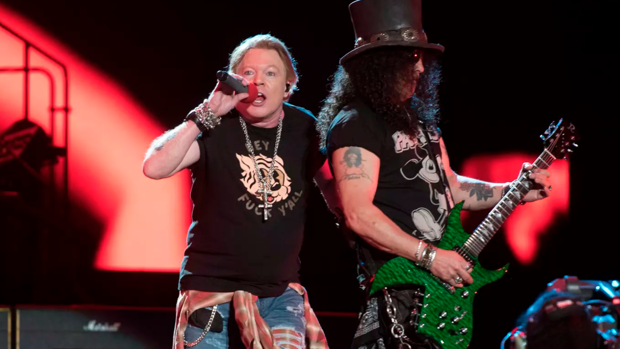 While Guns N' Roses fans were delighted that the partially-reunited group finally released new music again late this summer, for many who have followed the band closely since the mid-'90s, the new songs weren't exactly...new.
GNR revealed two new singles this year, "ABSURD" and "Hard Skool," both tracks that were initially crafted by Axl Rose and a cast of studio musicians in the early-2000s. They were performed live a handful of times during the decade between Slash and Duff McKagan's exodus and the eventual release of Chinese Democracy, but never made the album.
While Slash and McKagan contributed to the final versions of the new songs, Slash confirmed in a recent radio interview that the band hasn't written any brand new material since its reunion in 2016.
"As far as new Guns is concerned, we haven't even gotten to that point of really in earnest sitting down and writing," the guitarist said. "We've been doing a lot of material that's been sort of sitting around for a while. So it will be a whole focused endeavor unto itself."
Eventually, the current GNR lineup should begin writing, Slash says, but for now the collective has been focused on live shows and ironing out Rose's preexisting material.
"Axl has all these songs that he recorded at some point along the way. And so Duff and I went in and redid them basically," Slash explained. "Like, I wrote my own kind of parts to what else is going on and just sort of took the drums and redid everything else."
Both Slash and McKagan have been complimentary of the frontman's unreleased material since rejoining the band, though this is the first time one of them spelled out the collaborative process behind new music.
McKagan has described a low-pressure environment in GNR when it comes to crafting a new album. Slash has likely been busy enough with his solo work with Myles Kennedy & the Conspirators, to not press the issue.
Slash's band just announced its fourth studio album, 4, which is due out in February 2022.