Singer who lost AC/DC gig to Axl Rose recalls audition
Publish Date

Thursday, 19 March 2020, 9:59AM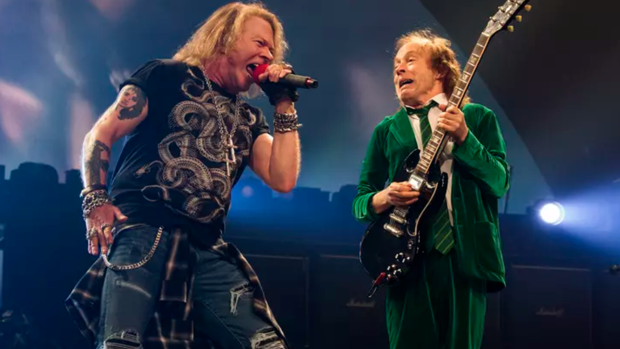 Guns N' Roses' Axl Rose got the gig filling in for longtime AC/DC frontman Brian Johnson on the band's 2016 'Rock or Bust' tour, but he wasn't the only singer the band considered.
Irish singer Phil Conalane also got called in to audition for the iconic Australian rock band.
In a recent interview with Classic Rock magazine, Conalane recalled seeing an email one morning with the subject 'I am the agent for AC/DC.' He initially thought his band Blackwater Conspiracy was getting offered an opening slot. He was not prepared for the phone call that followed.
"Long story short, he tells me that Brian has had to 'step away' from AC/DC for medical reason, and that [guitarist] Angus Young would like me to come over to the U.S. for a bit of a jam," Conalane said. "Would I be interested?"
Within a few days, Conalane was flown first-class to Atlanta, picked up by a limo and brought to a fancy hotel. The following morning, he found himself in a cavernous rehearsal space with the band.
"It's basically AC/DC's stadium stage setup: a wall of Marshall amps, and Chris Slade's immaculate 'Rock or Bust' tour kit separating the amps," Conalane continued. "A few minutes later, Cliff Williams, Chris Slade and Stevie Young all come into the rehearsal room and introduce themselves, and thank me for coming over. I'm chatting with Chris Slade for a bit, as we have a mutual friend in Ireland. A few minutes later, Angus comes in. Now I'm f---ing nervous! He comes over straightaway and says, 'Hi Phil, I'm Angus. Thanks for coming over. I appreciate it!"
The audition went on for some six hours, including a few breaks for tea. Conalane says Angus — the band's lone remaining co-founder — made him feel remarkably at ease and happily obliged in conversation.
"The volume and power of AC/DC in a rehearsal room on a full stage setting is unbelievable," he concluded. "And every one of those 14 Marshall cabs on Angus' side of the stage is hooked up ad blaring at full tilt."
He said the feeling a singing "Highway to Hell" with Angus at his side was one he'll never forget.
The band promised it would follow up within a few days, and it did. Angus sent a kind email, thanking Conalane for his audition, complimenting his voice and mentioning the "small fact" that Rose was getting the gig.
Conalane said he attended two shows on the 'Rock or Bust' tour and was given five-star treatment by the crew each time.
Two years ago, Slade recalled Rose's audition in a conversation with Chris Jericho.
The drummer admitted he was initially skeptical on account of Rose's diva reputation. But ultimately, he said Rose was a joy to play with and rescued the band from an uncertain time.

This article was first published on iheart.com and is republished here with permission