Sammy Hagar credits Eddie Van Halen with blocking 1980s 'Van Hagar' rebrand
Publish Date

Friday, 16 April 2021, 11:44AM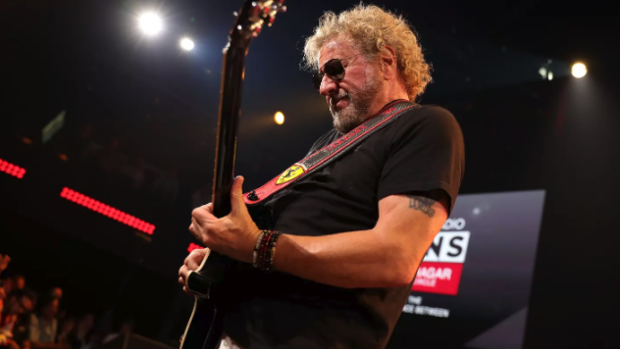 'Van Hagar' isn't just a widely-used descriptor of the Sammy Hagar-era of Van Halen, it was actually discussed as a rebrand for the band upon Hagar's arrival in the mid-'80s.
An executive at Warner Bros. first suggested Van Halen change its name to Van Hagar during a band meeting in 1986, presumably with an eye on capitalizing on Hagar's notoriety as a solo artist and possibly hedging their bets in case 5150 was a commercial flop.
Hagar recalled the discussion in a recent radio interview. It started with Warner Bros. executive Mo Ostin after the band played "Why Can't This Be Love" for him for the first time.
"Mo Ostin went, 'Oh, I smell money' — he thought it was just the greatest," Hagar said. "...Then he said, 'Did you guys ever think about maybe changing the name to, like, Van Hagar or something?'"
The singer continued, explaining Ostin's reasoning: "I know what they were thinking, because they thought, 'If this doesn't work, at least you can go back with Van Halen again. But if you're Van Halen and it don't work, now you've ruined the name Van Halen.' So they were trying to preserve, I think, the Van Halen name. And Eddie Van Halen — no one else — said, 'F--- that.' He said, 'This is Van Halen with a new singer. And everybody said, 'Okay. Word. Gospel.' Boom."
While Hagar cringed at the Van Hagar suggestion, he could have been convinced to co-create a new band or use an older moniker.
"I would have been embarrassed to be Van Hagar," he added. "I would have said, 'Let's just change it back to [the band's early name] Mammoth or something — go back to the beginning."
Longtime Van Halen bassist Michael Anthony recalled the 'Van Hagar' meeting being more contentious in a conversation with Steve Gorman Rocks.
"I remember Eddie and Alex [Van Halen], we were at Warner Bros., and they were yelling, going, 'Hey, hey, this is our last name. This is our careers. And we're Van Halen,'" Anthony said.
Hagar's early albums with Montrose were influential on Van Halen as the band was coming up with David Lee Roth. When Eddie and Alex Van Halen grew frustrated with Roth during the recording of the first Van Halen album in 1977, they briefly considered reaching out to Hagar to replace him. Roth eventually got his act together and the Van Halen brothers stayed the course for the next eight years, until Roth left to go solo.
This article was first published on iheart.com and is republished here with permission