Robert Plant's handwritten lyrics to "Kashmir" headed to auction
Publish Date

Friday, 29 October 2021, 5:10PM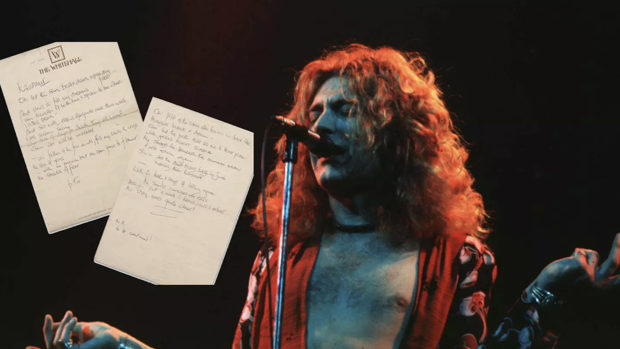 A lyric sheet for Led Zeppelin's "Kashmir" handwritten by Robert Plant is headed to auction next month by Julien's Auction.
The yellowed stationary contains alternate lyrics to "Kashmir" that Plant wrote at Chicago's Whitehall hotel in January of 1975, several weeks prior to the release of the Physical Graffiti album when "Kashmir" was still a new song in Zeppelin's live set.
A journalist who covered the band's Houston concert several weeks later, remarked to Plant that he was particularly impressed by the lyrics to the new song. Plant responded by gifting him the lyric sheet he'd been using.
Plant has long expressed particular pride in "Kashmir." He has openly wished that "Kashmir" was considered Zeppelin's definitive track, as opposed to "Stairway to Heaven."
The 'Icons & Idols: Rock 'N' Roll' auction is taking place at the Hard Rock Café in New York November 19 - 20 and online at JuliensAuction.com. The lyric sheet is expected to sell for $200,000 - $300,000.
For more on the auction, go HERE.
The auction also includes a number of other dear classic rock relics, including Guns N' Roses' MTV Video Music Award for "Sweet Child O' Mine," a comic self-portrait by Nirvana's Kurt Cobain (signed as 'Kurdt Kobain'), a jacket Keith Richards wore at the infamous Altamont Free Concert. and guitars owned and used by the likes of Eddie Van Halen and U2's The Edge.
This article was first published on iheart.com and is republished here with permission