Rise Against explains how the social climate influenced their new music
Publish Date

Saturday, 5 June 2021, 12:10PM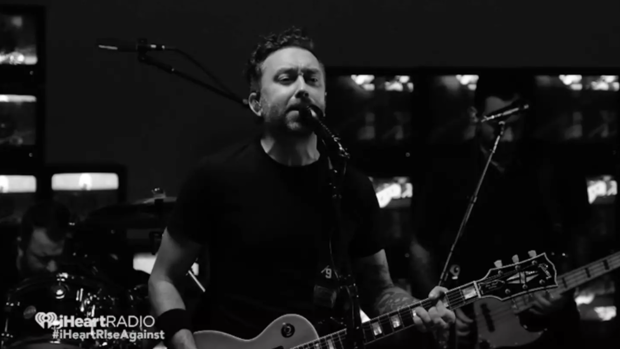 This year is a big one for Rise Against as the band is celebrating the 20th anniversary of their debut album, The Unraveling, in addition releasing their brand new album Nowhere Generation. The night before their new project's official release, Rise Against previewed all of their new music for fans during their exclusive iHeartRadio Album Release Party.
Nowhere Generation follows Rise Against's 2017 album, Wolves, and was recorded at The Blasting Room in Fort Collins, Colorado. The new project includes its title track and songs "Broken Dreams, Inc.," "Forefeit," "Sudden Urge," "The Numbers," "Talking To Ourselves" and more.
During their iHeartRadio Album Release Party, Rise Against performed Nowhere Generation songs like the album's title track, "Talking To Ourselves" and "Broken Dreams, Inc.," in addition to songs like "The Violence," "Prayer of the Refugee," "Re-Education (Through Labor)," "Give It All" and "Savior." The band also listened along to some of their new songs from Nowhere Generation, including "Numbers," "Forfeit," "Sooner Or Later," "Sudden Urge" and "Sounds Like"
Rise Against's Tim McIlrath and Joe Principe also opened up about Nowhere Generation and more during a special Q&A hosted by iHeartRadio's Booker, and answered some questions from a few lucky fans who joined the guys virtually.
As many Rise Against fans know, the band is known for being outspoken about social commentary in their music, and Nowhere Generation in no exception. And as McIlrath explained of the album's title track, "'Nowhere Generation' was just one song on the record, but the ideas behind it kept cropping up on different songs until we had an album title on a concept. It's starting from this premise that American culture has normalized the idea that you can work full time and still be poor. And the more we normalize it, the more we get used to idea. It's something that has become ingrained in people and young people, especially. And I feel like a lot of our fans, they would communicate these anxieties to us in their own way and we couldn't help but listen."
And when asked by a fan how their new music was influenced by the current social climate, Tim explained:
"There's so much we see in the headlines that is being talked about, that can be talked about, or is being sung about. And I feel like with Rise Against, we always want to try to find the spaces that aren't being talked about — the spaces in between. Sometimes people are having a great dialogue about issues and you don't feel like you need to regurgitate that or have nothing to add to it. It's just exciting to see people actually engaged in it. And what I found going into this record, thinking about people who listen to our band and what we sing about, I really felt like there was something not being talked about. And it was about this generation is about millennials, it was about young people, younger than millennials. And I feel like people my age and our age were very dismissive of their complaints about the world. And there [are] a lot of millennial jokes, it's often the punchline, and the more I heard them, the more I found that they were really insensitive to what's happening to young people who are looking for a better future."
He added, "It's not that they have these unwarranted complaints, it's they have these real, real complaints about what's happening, that it's like this ladder to success is being burned away by people at the top. And that stuff I didn't really see was in the headlines, and I knew people who weren't seeing that. And so I felt like this was such a root of problems. That's such a very basic thing that people are waking up today with this insane weight on their shoulders. And they're trying to identify it. They're trying to point to what it is, like, what is making me feel this way? And they're kind of tired of being dismissed. They're tired of being ignored or tired of someone saying, 'Oh, you just got to deal with that, walk it off, you'll be fine.' The people who are sick of that, because there's a lot of data and research showing us that growing up and living and existing today here in 2021, it's different. We're in an unprecedented time where there's push and pull of society, of the economy, of politics, of just everything is kind of tearing people apart and they're wanting to put a finger on it. And so that's where I felt like Rise Against could be a part of the conversation this year."
Take your Radio, Podcasts and Music with you