RHCP reveal how they weighed Frusciante's return & Klinghoffer's dismissal
Publish Date

Tuesday, 8 February 2022, 8:33PM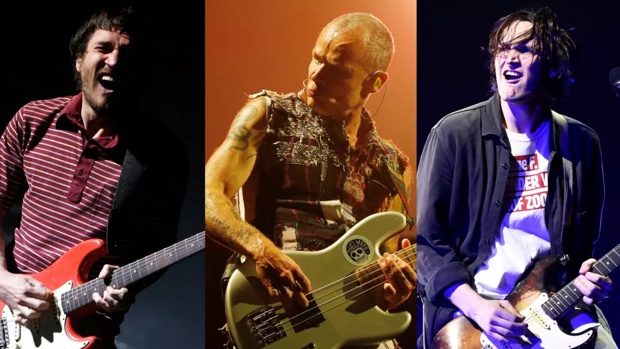 Two years after reuniting their classic lineup, the Red Hot Chili Peppers have a new album on the way and no regrets about the direction of the band.
While it hurt to dismiss Josh Klinghoffer after more than a decade of service, Flea and Anthony Kiedis agree that the return of John Frusciante — now in his third go-around with RHCP — was absolutely necessary.
"That was the most monumental change in our lives. And God was I down or anything and everything," Kiedis told NME in a new interview.
The Chili Peppers' forthcoming album, Unlimited Love (due April 1), was in progress before the band decided to pursue Frusciante again. The guitarist was back in the band's circle after years enveloped in his own projects.

Unlimited Love was coming along slowly, "meandering" and lacking the excitement for a formidable RHCP album. Kiedis and Flea began to discuss involving Frusciante in the record as a guest. The more they entertained the idea, the more clear it was that they needed Frusciante back full-time.
The only doubts were on Frusciante's side.
"Flea had put the idea in my head and I was sitting there with the guitar thinking that I hadn't written any rock music in so long," Frusciante told NME. "Could I still do that?"
But Frusciante immediately fell back into place and the music followed.
"The dynamic was very health, productive and creative," Kiedis recalled. "Sometimes [we] can be a little too competitive and it can lead to discord, but [this time] we really pushed each other in a positive way."
Letting go of Klinghoffer was tough, but Flea says it was the right thing to do.
"Not only was [Klinghoffer] a great musician, he was also a thoughtful, supportive team-player — a communally-minded, kind and intelligent person," Flea explained. "But artistically, in terms of being able to speak the same language, it was easier working with John. Getting back into a room and starting to play and letting the thing unfold... was really exciting."
RHCP released their first new single in five years, "Black Summer," last week. Check it out via the player above.
Klinghoffer — who joined Pearl Jam last year as a touring guitarist — remained professional in his departure from the band, asserting in an early-2020 interview with Marc Maron that while getting fired wasn't easy, he agrees that Frusciante's "place" is with RHCP.
He told Maron at the time that there is an obvious and deep artistic connection between Frusciante, Kiedis, Flea and Chad Smith, that are no hard feelings on his side and that he wishes them well.