Queen is "looking at ideas" for possible 'Bohemian Rhapsody' sequel
Publish Date

Tuesday, 17 August 2021, 9:22AM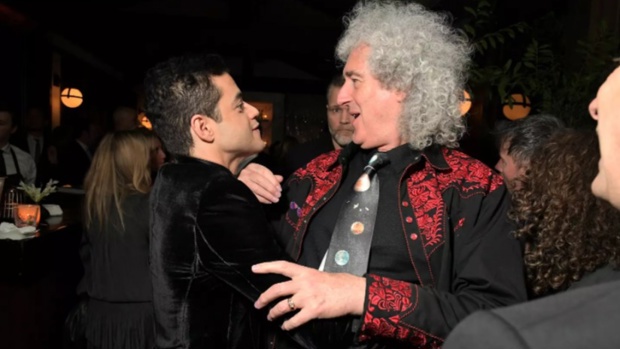 Brian May still won't rule out a sequel to Queen's award-winning Bohemian Rhapsody biopic.
Speaking via Instagram Live recently, May was asked whether there was any truth to the rumors of a BoRhap sequel. He conceded that the band has been "looking at ideas."
"It's going to be hard to follow that one as none of us could have predicted how massive that was going to be," he continued. "We put a lot of heart and soul into making it and no one could have predicted [its success], as it was bigger than Gone With The Wind. But yes, we are thinking maybe it could happen, but it would have to be a great script. It's going to take a while to figure that out."
The 2018 film grossed over $1 billion at the box office, won four Academy Awards and two Golden Globes and was the No. 1 selling film on home release in 2019.
With the spotlight on frontman Freddie Mercury (played by Rami Malek), the film traces Queen's career from its early days at Imperial College in the early-'70s to its 1985 Live Aid triumph up through the revelation of Mercury's battle with HIV/AIDS in the late-'80s.
The film does not depict Mercury's final months, the recording of Queen's final album or the legendary concert tribute to Mercury in 1992, a few months after his death.
Many fans feel a Bohemian Rhapsody sequel would be a far darker film, centered around Mercury's death, but May has mostly kept an open mind to the idea, suggesting he would reserve judgment until he sees a script.
Drummer Roger Taylor has remained skeptical of sequel talk, saying it would take a "genius plan" for it to come together.
"I really do think that we need to sit back for a year or two and look at things and see if that is a believable or credible thing to do," he told Rolling Stone in July of 2020. "The movie was a great hit. We were delighted, obviously. But I think I wouldn't want to be seen as cashing in again. I'd have to have a very, very good script and scenario to make that work. Right now, I can't think of a way of doing a sequel."
This article was first published on iheart.com and is republished here with permission