Primus' Les Claypool addresses legend about his Metallica audition
Publish Date

Thursday, 1 October 2020, 11:25AM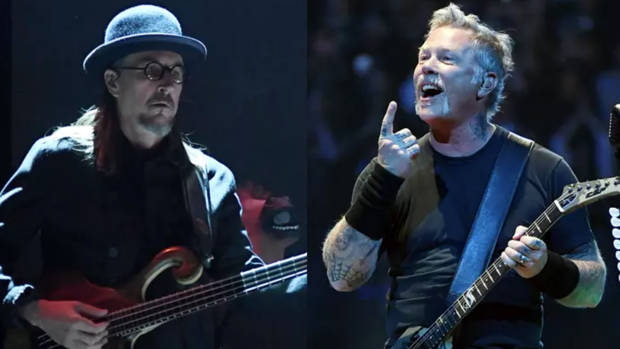 While there's lots of evidence that Metallica has generally made good decisions in its career, the band's unrivaled success makes for an increasingly fascinating bounty of what-ifs.
One of the most pivotal moments for Metallica in the '80s was finding a new bassist following Cliff Burton's tragic death.
The band ultimately chose Jason Newsted, and went on to its most commercially successful period in the following decade. But before settling on the former Flotsam & Jetsam bassist Newsted, Metallica considered Megadeth's Dave Ellefson and even auditioned Primus's Les Claypool.
Claypool is an old high school friend of Metallica guitarist Kirk Hammett's and was therefore one of the best bassists in Metallica's network at that point. A prevailing myth about his audition holds that while the band was impressed with Les, frontman James Hetfield said he wasn't right for the job because he was 'too good.'
"He definitely did not say that!" Claypool told Kerrang!, dispelling the old legend in a wide-ranging recent conversation. "He said that later on in an interview, which was very kind of him. I think they thought I was a freak."
At the time of the audition, Claypool was struggling to establish a constant Primus lineup and years away from recording the band's watershed debut album, Frizzle Fry. From time to time he gets prodded about the Metallica opportunity, and he has admitted that he didn't have the enthusiasm for heavy metal that would have been required of him.
"They were very nice — Lars [Ulrich] was particularly kind — and of course I knew Kirk from high school," he continued. "But I think that James thought I was some sort of thug. Put it this way, I definitely didn't look the part."
He added that while Cliff may indeed have been an 'eccentric' bassist in his own right, he looked "like a Viking or something," and that fit neatly into Metallica's aesthetic.
In addition to not being a metalhead, Claypool didn't have much concept about how big a deal Metallica was until he arrived at the band's rehearsal space.
By the time he left the audition, he did want the job, but mostly so he could quit his day job. Alas, it wasn't to be.
When asked what Metallica would have sounded like with him handling the low-end, Claypool said he's sure that it wouldn't have lasted more than "a month or two before they kicked me out. They've got enough chefs in the kitchen in that band — they don't need a guy like me."
"And the guy they have right now is unbelievable," he concluded. "Robert Trujillo is one of the nicest and sweetest guys I've ever met in the industry, and his playing is unbelievable."
This article was first published on iheart.com and is republished here with permission