Ozzy Osbourne says he is "forever in gratitude" to Randy Rhoads
Publish Date

Thursday, 20 May 2021, 4:05PM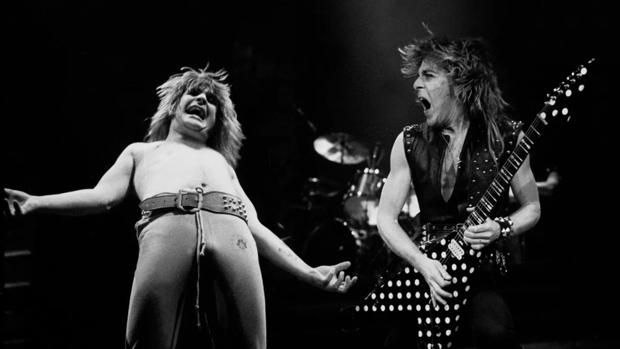 Ozzy Osbourne is applauding his late-guitarist Randy Rhoads, who was just announced among the Rock and Roll Hall of Fame's 2021 Musical Excellence Award recipients.
Randy, who co-wrote Ozzy's first two solo albums, Blizzard of Ozz and Diary of a Madman, died in a 1982 plane crash in Florida at age 25 while on tour with Ozzy. Randy's virtuosic guitar playing and singular creativity launched Ozzy's solo career on a high, and the Prince of Darkness has never forgotten.
Ozzy, who was mired in depression following his departure from Black Sabbath in 1979, has often credited Randy's demeanor and musical genius with saving his life and his career.
"I knew him for a very short amount of time," Ozzy told Rolling Stone. "But what he gave me in that short amount of time was immeasurable in f---ing greatness. To get somebody like Randy Rhoads to play on two albums, and for those two albums to sound as good as the day they were recorded, is something else. And I'm forever in gratitude for that. God only knows where that man would be today. The very fact that he's not here to breathe the air is just a f---ing crime."
He continued: "Thank God that he's getting recognized by the Rock And Roll Hall Of Fame. He finally got there in the end. I'm sad that his mother was not alive to see it, because he was very close to his mom. I know his brother, Kelle, and his sister, Kathy, are going to be really chuffed about it. It shows that he's not been forgotten. He was a dedicated, true musician, and he was a lovely guy. I still think about him all the time."
Rhoads' being recognized by the Rock and Roll Hall of Fame is especially significant because Ozzy himself has yet to be nominated for induction as a solo artist. (Ozzy was inducted in 2006 as a member of Black Sabbath.)
The 2021 Rock and Roll Hall of Fame induction ceremony will be available on HBO and HBO Max this fall.