Nikki Sixx says he & Vince Neil were perfect partners in Mötley Crüe
Publish Date

Saturday, 11 December 2021, 11:24AM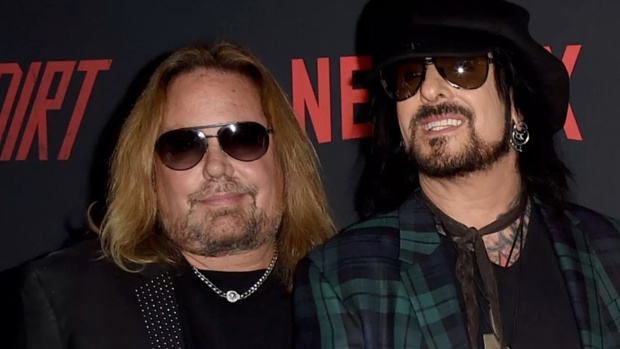 Nikki Sixx sang the praises of each of his Mötley Crüe bandmates in a recent interview, but took special care to flatter frontman Vince Neil.
Sixx was asked by Classic Rock magazine to consider which of the Mötley Crüe co-founders was the best musician. The bassist noted that each of his bandmates' unique talents played a part in making the band so successful.
"They're all really f---ing good," Sixx said. "Tommy [Lee] is a monster on drums. Mick [Mars] is one of my favorite guitar players. And Vince has something that nobody else has. Isn't that what you're looking for — guys that don't sound like anybody else? I'm not a great player. Like, if I really woodshed for six months, I'm okay. But if I was a different kind of bass player, it would offset the sound of the band."
Sixx noted that lineup changes in the band's past proved that Mötley Crüe just isn't the same without the members of its original lineup. Returning to his singer, he added that he and Neil brought the best out of one another with their songwriter/singer relationship.
"A lot of times, Vince would tell me he struggled with the fact I put so many lyrics in a song. 'Shout At The Devil' is a good example," he recalled. "But it was because I grew up with beat generation writers as a teenager, and I would get into this kind of rhythmic frenzy. And because of the way that Vince sang, that was what made his voice excel. His voice was kind of like a Gatling gun. Like, bap-bap-bap. I remember the first time the four of us ever played together, we ran 'Live Wire.' I turned around to adjust my bass amp, and Tommy and I just gave each other a look: 'Something's happening here.'"
Earlier this fall, Sixx complimented the "raw" quality of Neil's voice, which he says inspired him to write.
Neil has been touring this year with his solo band, playing sets largely comprised of Mötley Crüe material.
Crüe is set to embark on its twice-postponed 'Stadium Tour' reunion next summer with co-headliners Def Leppard.
Take your Radio, Podcasts and Music with you