NEW ZEALAND'S WOMEN IN ROCK
Publish Date

Monday, 6 March 2023, 1:41PM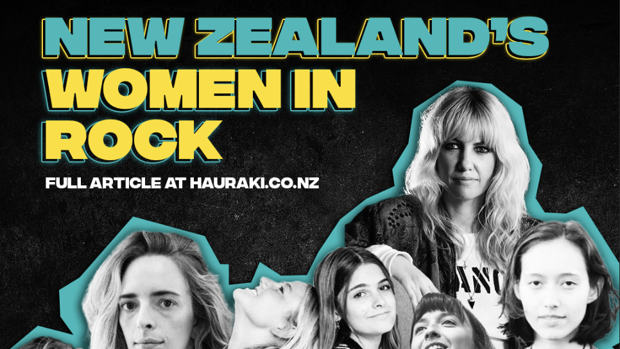 If you're not listening to the artists who are topping New Zealand's rock scene, you're probably not listening to enough female artists.
Below is a collection of Radio Hauraki's favourite woman in rock.
 The Beths
Genre: Indie Pop/Indie Rock
Label: Car Park/Ivy League
Origin: Auckland
The Beths exploded on to the scene in 2014 and quickly became New Zealand's Indie Rock darlings. Since then they've gone on to sell out shows, win awards and play festivals all over the world.   
 Frazerdaze
Genre: Dream Pop, Shoegaze,  Indie Pop, Indie Rock
Label: Flying Nun Records, Section 1
Origin: Wellington
After a five year hiatus on the back of her hugely successful debut Album Morningside, Fazerdaze returned with Break! A crunchy upbeat indie EP which draws inspiration from 90's bands such as Nirvarna and Blur.
 Ladyhawke
Genre: New Wave, Indie Pop, Synth Pop
Label: Modular, BMG, Island, Polyvinyl
Origin: Masterton
Since going it solo in 2008 Ladyhawke has been nominated and won too many awards to count. Her biggest single to date, My Delirium, dubbed "the greatest New Zealand song of all time" by Annastasia Loeffen has had over 30 Million streams on Spotify and 5.5 million views on youtube.
 There's a Tuesday
Genre: Dream Pop
Label: Olive Records
Origin: Christchurch
Taking influence from Phoebe Bridgers and Julia Jacklin There's a Tuesday broke out of Christchurch to head multiple national tours to what we think are some of New Zealand's most adoring fans. You will not see a There's a Tuesday show without someone crying. 
 Chelsea Jade
Genre: Pop, Indie Pop
Label: Carpark
Origin: Auckland
Chelsea Jade's first solo project Water Colours won her the New Zealand Music Awards Critics Choice Award. Over her career she has worked with Liz Stokes (The Beths), Lorde and Jon Toogood. Now based in L.A Chelsea jade continues to push boundaries and some absolute tunes.
Miss June
Genre: Punk Rock
Label: 
Origin: Auckland
Miss June swerve between blistering rock and hazy punk and have show throughout New Zealand as well as internationally. They've opened for bands such as Foo Fighters and Wolf Alice and are quickly becoming a bohemoth in the punk scene.
Take your Radio, Podcasts and Music with you