Nandi Bushell calls performing with Foo Fighters the best night of her life
Publish Date

Thursday, 2 September 2021, 1:59PM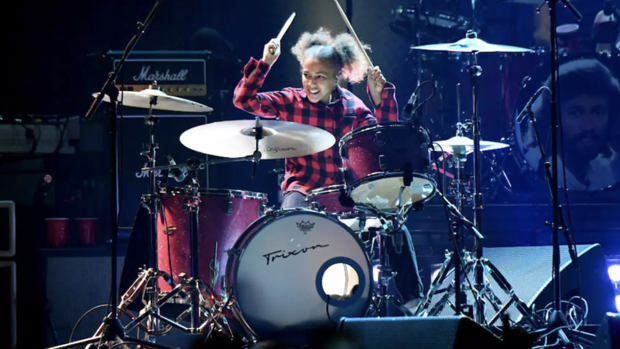 Last week, Nandi Bushell made everyone's dream come true and performed onstage with the Foo Fighters at their show at The Forum in Los Angeles. And during a recent chat with BBC, the 11-year-old prodigy gushed that the experience "was so much fun. It was the best night of my entire life and I've had a lot of good nights."
It was only fitting that Bushell's first time meeting Dave Grohl in person was on stage, where she played "Everlong" with the band in front of thousands of cheering fans. That was the song that started their drum battle last year (which was the feel-good story we all desperately needed in 2020).
See the full performance below.

Playing with the Foos wasn't the only awesome thing Bushell did during her time in the States. She also met up with Melissa Reese of Guns N' Roses, Incubus's Jose Pasillas, and The Drum Channel's Chad Smith and Greg Bissonette and jammed out with Tom Morello and his son, Roman, hinting that the two wrote an "EPIC" song that will be released soon.
Bushell originally teased the collaboration during an interview with Modern Drummer in July. "I have recently written a song to raise awareness for climate change with Tom Morello and his nine-year-old son, Roman," she said. "We had an awesome time writing together. Tom, Roman, and I would send video messages and ideas to each other over email. I wrote the drum part, the lyrics, and the vocal melodies, while Tom and Roman created the guitar and bass parts. I hope people love our song, and that we get to play it together in person some day."