Metallica's James Hetfield says pandemic is testing his "lone wolf" persona
Publish Date

Tuesday, 6 October 2020, 9:54AM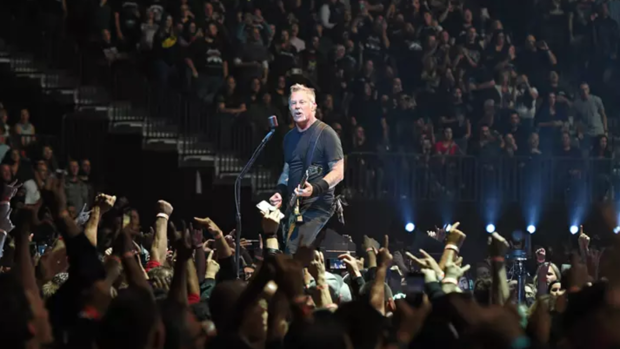 Metallica played its last live show nearly 13 months ago and James Hetfield needed a break.
After several years of intense touring since 2016's Hardwired...To Self-Destruct, Metallica canceled its remaining 2019 tour dates and Hetfield checked himself back into rehab to "work on his recovery again."
Metallica planned to get back on the road this spring, but the COVID-19 pandemic undercut those plans.
Hetfield tells Metallica fanzine So What? that before the pandemic quarantines, he was doing very well mentally and emotionally. But the lockdowns have taken their toll on all of us, and not having the option of performing live in front of Metallica's fans has really put things into perspective, he says.
"...That reminds me of the phrase, 'You don't know what you got 'til it's gone,' you know," Hetfield said, evoking the Cinderella hit from 1988. "Where certainly, 'Okay, gosh, I'm tired of touring,' and now I really want to get out and do some shows. Not tour like we were – crazily – but seeing familiar faces, the family, the rehearsal, the creative process, [Metallica headquarters] itself, just everyone that works there. God, I just missed it so much."
The Rock and Roll Hall of Famer says that despite leading the iconic thrash metal four-piece for nearly 40 years, he's always thought of himself as a kind of "lone wolf."
"But I miss people," he admitted. "And as much as I say I don't, I do."
Like many of us, Hetfield says the pandemic has brought out a depressive side. Fortunately, Metallica has been working hard to stay connected.
Since the band can't tour, he confirms, they have been in writing mode — as much as that is possible without the luxury of being able to work together in the same room.
"You adapt and it's important to be of service with our music, so let's do what we can out there, and we're adapting."
Drummer Lars Ulrich revealed this past spring that Metallica was working on new musical ideas from a distance. He indicated, however, that the band was running into roadblocks without the benefit of being together in the same physical space.
Ulrich said the band was considering taking inspiration from the NBA and creating a 'Metallica Bubble' this fall so the band members can get together and start rehearsing their new music.
This article was first published on iheart.com and is republished here with permission