Metallica may attempt to record new music this year in a "bubble"
Publish Date

Sunday, 6 September 2020, 11:26AM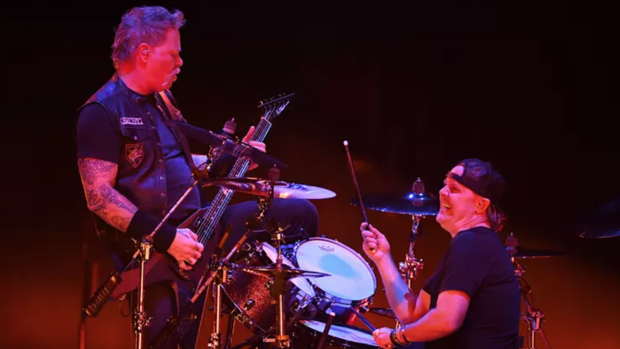 While Metallica is making progress on writing new material, the band has been inhibited creatively by its social distancing.
Drummer Lars Ulrich revealed back in the spring that the four members of Metallica had been workshopping new musical ideas during their respective lockdowns, but he expressed uncertainly at how far they would be able to get without being in the same place at the same time.
More than four months later, it seems the band has reached that limit.
"It's not easy, but we've been doing what we can," Ulrich told NME in a recent conversation.
He continued, explaining that the virtual sessions the band has been taking part in lack the energy that comes with collaborating in the same physical space. It's a deficit that's been difficult to overcome.
"We've been exchanging ideas back and forth. The hardest thing about being in four different spaces is that there's no software that can have us all play in real time to reach [each] other," Ulrich said. "So I can play something and send it to the next guy and then he can play on it and he can send it to the next guy, or vice-versa, but we can't play at the same time so it takes the impulsivity and the momentary energy out of the occasion."
Always near the cutting-edge, Ulrich added that he's had conversations with his friends in the tech industry about "how close we are to being able to all play in real time with each other," but we're not there yet.
Guitarists James Hetfield and Kirk Hammett have both professed to have a wealth of song ideas ready to be brought to the jam room.
Ulrich concluded that Metallica might take a page out of the NBA's book and look to create a "bubble" before the year is over, so they can collaborate in a more inspiring manner.
The band already attempted one such scenario last month to film its Encore Drive-In Nights concert film. Ulrich says they might have no choice but to do it again.
"...[W]e're looking forward to seeing if at some point this fall, we can get back into another bubble where we write and play and maybe even record — so we're looking forward to the possibilities on that one."
Bassist Robert Trujillo recently suggested that the band was looking to "pursue making music together" during the lockdown and perhaps devise another way to perform live for fans á la Encore Drive-In Nights.

This article was first published on iheart.com and is republished here with permission