Megadeth owes "everything to Metallica" says Dave Ellefson
Publish Date

Wednesday, 23 September 2020, 7:58AM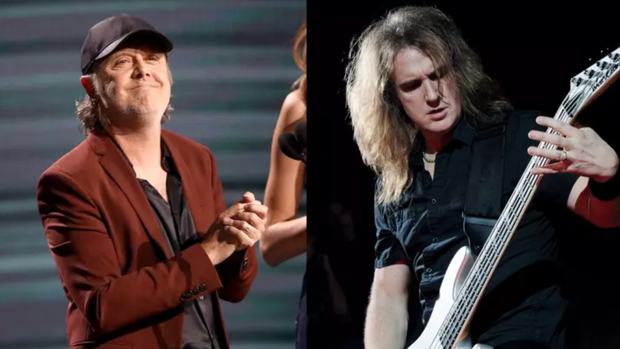 Despite their longstanding rivalry, Dave Ellefson says there's no getting around how important Metallica was to Megadeth's success, and to the development of just about every other metal band to come after them.
The bassist's comments might cause Dave Mustaine to wince. But Ellefson said in a recent radio interview that there's no denying Metallica's importance to rock history.
"I mean, look, we are all just a branch off the Metallica family tree," Ellefson told Meltdown. "I mean, let's face it. Especially Megadeth, with Dave being [an ex-member of Metallica], and then me being a branch off of Dave with Megadeth. So, I mean, look, we owe everything to Metallica."
Metallica is the leader of the 'Big Four of Thrash Metal,' a group of influential extreme metal bands from the '80s that includes Megadeth, Slayer and Anthrax.
Each band had its moment in the zeitgeist, but none of the 'Big Four' are so firmly established in mainstream culture as Metallica, which was inducted into the Rock and Roll Hall of Fame in 2009.
Ellefson continued, explaining that Metallica's success is inextricable from the continuing vibrance of hard rock and heavy metal as genres.
"Those guys broke down the doors for every one of us — Anthrax, Slayer. Bands today — Lamb of God, Pantera — none of this would have happened without Metallica being up there as the 800-pound gorilla just carving the path through the jungle that would have never let heavy metal in," he said.
While Mustaine was dogged for years by his acrimonious early-'80s split with Metallica, Ellefson nearly auditioned for the band twice — once in 1986 after Cliff Burton's death and again between 2001 - 2003 after Jason Newsted left the band.
Megadeth briefly disbanded circa 2002. During that during that period, Lars Ulrich apparently contacted Mustaine about Ellefson's availability. While he was never invited to audition, Ellefson later said he would have been happy to give it a shot.
Mustaine considers Ellefson a trusted ally and he has admitted publicly that it would have hurt him to lose his longtime confidant, especially if it was to Metallica.
This article was first published on iheart.com and is republished here with permission