Linkin Park, Pearl Jam releasing exclusive vinyls for 2021 Record Store Day
Publish Date

Thursday, 8 April 2021, 8:03AM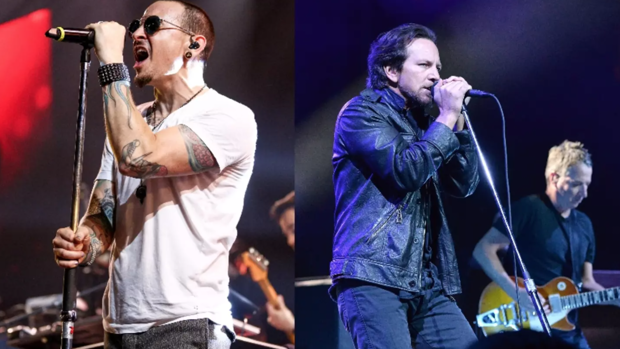 It's the most wonderful time of the year — Record Store Day is upon us!
Record Store Day will return for two dates — June 12 and July 17— with hundreds of exclusive vinyls sold at your favorite independent record shops.
On Wednesday (April 7), Record Store Day announced the full list of every artist and band taking part in this year's festivities and the offerings are incredible.
Pearl Jam, Linkin Park, Rage Against the Machine, The Cranberries, The Rolling Stones, AC/DC, St. Vincent, Amy Winehouse, Wolf Alice, and more are just a handful of artists with special releases planned for the two-day event.
Last year, RSD was forced to celebrate a little differently because of the COVID-19 pandemic and stretched the event over three days with many titles being released online.
While the country still recovers from the pandemic this year should look a little bit how RSD used to be — aka waking up early and shopping IRL — but the organization recommends checking in with your local record store for shopping policies.
On June 12 fans can expect the following (and more) to be released:
AC/DC: "Through The Mists Of Time"/ "Witches Spell" 12″ Vinyl Single
Amy Winehouse: Remixes 1LP colored
Awolnation: Angel Miners & The Lightning Riders Live From 2020 spatter LP
Bastille: VS. (Other People's Heartache, Pt. III) 7″ Single
Black Sabbath: Master Of Reality LP in Slim Box + poster + colored vinyl
The Cure: Faith 1LP Picture Disc
Elton John: "Regimental Sgt.Zippo" 1LP
HAIM: "Gasoline" 7″
Joni Mitchell: Joni Mitchell Archives, Vol. 1 1LP
Linkin Park: Meteora 2 x Aqua Blue LP
Mötley Crüe: 40th Anniversary Exclusive Boxset 5 Cassette Box Set
Pearl Jam: "Alive" 12″ Vinyl Single
Rage Against The Machine: The Battle of Mexico City x2 LP Vinyl
The Rolling Stones: Hot Rocks (1971) 2LP Colored
Wolf Alice: Blue Weekend Gatefold 12″ plus bonus 7″
July 17 offers up the following releases:
Alkaline Trio: From Here To Infirmary 12″
Bob Dylan: "Jokerman" / "I and I (The Reggae Remix EP)" 12″ Vinyl Single
The Cranberries: Stars: the best of 92-02 2LP Colored
Crosby, Stills, Nash & Young: Déjà Vu Alternates 1 LP 180gm
Dio: "God Hates Heavy Metal" 12″ picture disc album
Queen + Adam Lambert: Live Around The World EP 12″ Color EP
St. Vincent: "Piggy" 7″
You can check out all the releases on RSD's site.
This article was first published on iheart.com and is republished here with permission