Kurt Cobain's silly self-portrait doodle sells for $280,000 at auction
Publish Date

Tuesday, 15 June 2021, 10:17AM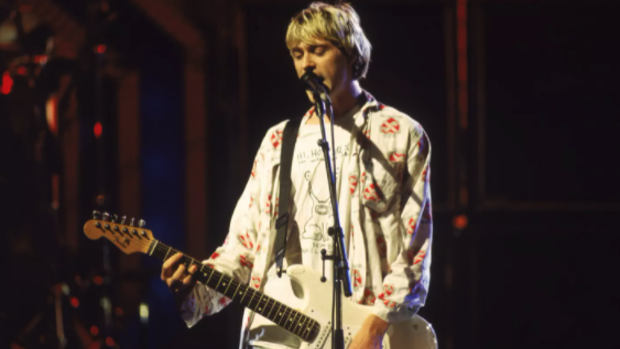 A self-caricature drawn by Nirvana's Kurt Cobain in 1992 has sold for $281,250 at a recent Julien's Auction.
Cobain depicts himself as a spiral-eyed, guitar playing stickman and pokes fun at his then-newfound fame, captioning the doodle "I don't know how to play and I don't give a hoot!" and signing it "Kurdt Kobain Rock Star."
The drawing was originally given to photographer Jacque Chong, who worked with Nirvana during the band's 1992 tour of Singapore. Chong was with Cobain when he drew the picture.
Like one of his greatest musical heroes, John Lennon, Cobain was a notorious doodler, with many of his drawings over the years having sold at auction. But Cobain didn't often depict himself in his artwork and that fact, along with the drawing's simple irreverence, appeared to drive up the price of this piece.
Julien's conservatively estimated the drawing would sell for between $10,000 - $20,000, but the unique piece ultimately commanded much more in an auction that also sold one of Prince's electric guitars and Elton John's grand piano.
The value of Cobain memorabilia has seemingly crested over the last couple of years. Six strands of Cobain's hair that were squirreled away after a 1989 haircut recently sold for $14,145.
The remains of a $50 guitar pedal that Cobain smashed in 1991 at a Rhode Island concert sold for $9,000 last year. A setlist written by Cobain in Washington D.C. in 1990 on a paper plate sold for $22,400.
The modified Martin acoustic-electric guitar played by Cobain during Nirvana's MTV Unplugged shattered five world records last summer when it sold for more than $6 million.