Kim Thayil reveals what Soundgarden song he was "nervous" to play live
Publish Date

Thursday, 17 September 2020, 3:02PM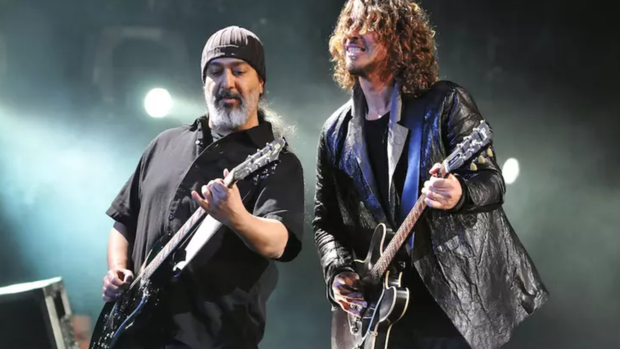 "Black Hole Sun" is one of, if not the, biggest Soundgarden hit of all time, but despite it landing on ever set list, Kim Thayil was always "nervous" to play it live.
"[Black Hole Sun is] so delicate," the guitarist divulged to Kerrang! when asked if there were any songs he was apprehensive to play live. "Some of the guitar parts were like piano parts, and you feel naked and exposed playing them. The intro always made me nervous; I'd turn around and look at Matt [Cameron, drummer] and he would watch me and smile if I missed a note. Every five or six shows I would and he'd laugh at me and I'd walk away laughing."
During that same interview, Thayil admitted that 2019's star-studded I Am A Highway Chris Cornell tribute concert was a bit of "a clusterf***."
"The best thing about it was playing those songs again with Matt and Ben [Shepherd]," Thayil said, "and the next best thing was having our friends and guests join us. The rest was a little bit uncomfortable. It was sort of a clusterf***."
"It picked at an open wound, emotionally, and nobody was that thrilled to do it," he continued. "We were thrilled to play the songs for our audience, and to play with each other onstage. The takeaway was the band being together with our family, crew and friends. To see that family together again was love. Everyone was happy and teary-eyed. It was the Soundgarden family together, doing what Soundgarden does and honoring and missing our beloved, departed member. That was important."
This article was first published on iheart.com and is republished here with permission