Kim Thayil on the Soundgarden riff that took him "months" to learn
Publish Date

Tuesday, 16 March 2021, 10:19PM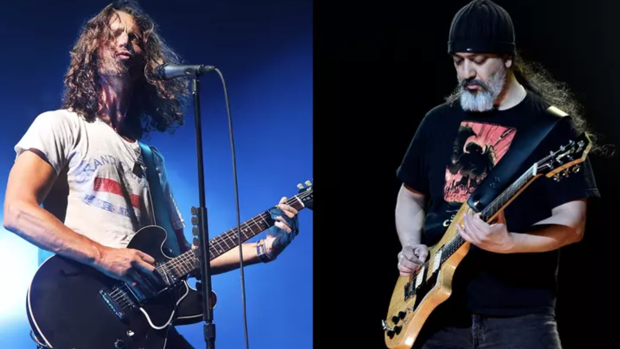 Soundgarden co-founder guitarist Kim Thayil recently looked back on some of the most consequential songs of his career.
While Thayil's dour odd-meter riffing is undoubtedly a signature of his iconic band, when speaking with Guitar Player magazine recently, he was eager to credit the band's ultimate breakthrough to his longtime bandmate and late-frontman Chris Cornell.
If you deep dive into Soundgarden's catalog, it may seem that Thayil and Chris were in competition to see who could write the darkest, most hypnotic, bizarro pop songs.
Thayil certainly had his moments on tracks like "Jesus Christ Pose," "New Damage" and "Limo Wreck," but he says one of the most challenging riffs ever brought into the band was one by Chris.
Badmotorfinger's third single, "Rusty Cage," with its polyrhythmic main guitar riff, wild altered tuning and numerous tempo and time signature changes, is perhaps also the band's greatest musical achievement. All that technical strangeness ultimately succeeds as a hit song.
But such powerful writing didn't make it any easier on Thayil, he admits.
"This was Chris's song, and it has one of the coolest arrangements," Thayil told GP. "It's a verse/chorus, verse/chorus thing, and then a C section and a D section ending. It's trippy as hell. I remember I spent a lot of hours, days, and months learning the main riff, because it's not an easy one to play."
"Rusty Cage" became a mainstay in Soundgarden's live set. Eventually, the riff "became easy" for the band, but the most mind-boggling part was that it was always easy for Chris.
"...I will say this: The fact that Chris could play the riff of this song and sing it at the same time — I don't know if that's more a testament to his abilities to weave a melody around a trippy riff or to his abilities as a guitar player," Thayil points out. "But it was pretty amazing to see."
This article was first published on iheart.com and is republished here with permission