Judge recommends dismissal of 2 claims against Soundgarden by Vicky Cornell
Publish Date

Friday, 26 March 2021, 7:20AM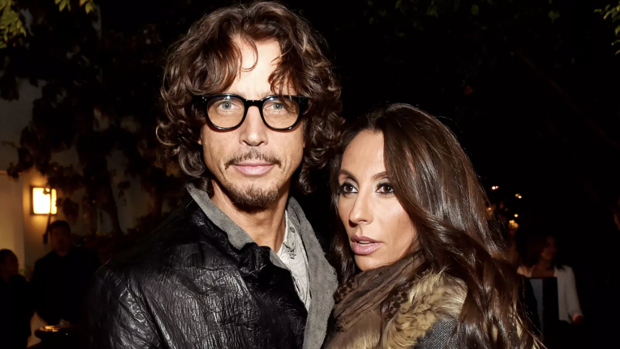 A federal judge in Washington state is recommending the court dismiss two of Vicky Cornell's six claims against the surviving members of of her late-husband Chris Cornell's band Soundgarden.
In a report filed Friday, U.S. District Judge Michelle Peterson said that there isn't enough evidence to support Vicky's claim that the band is withholding "hundreds of thousands of dollars" of Chris's royalties or that the band's manager, Rik Venerus, breached his fiduciary duty to Chris's estate.
Judge Peterson's report is being sent to presiding judge, Robert S. Lasnik, who will make the final ruling.
Chris Cornell died of suicide on May 18, 2017, after a concert in Detroit with Soundgarden. He left rights to his music to his wife to benefit her and their two children.
Vicky Cornell and Soundgarden have been in litigation since late-2019 over the band's legacy, namely unreleased material for the album Chris, Kim Thayil, Matt Cameron and Ben Shepherd were working on prior to Chris's death.
Vicky claimed the unreleased material is the sole intellectual property of her husband; the band claimed that the music was collaborative between all four band members and that recordings from their Seattle studio space prove it.
However, Chris was in possession of several multi-track recordings for the album — most significantly, those containing his vocal work — and the band claims Vicky does not have the right to retain those recordings. Soundgarden hopes to complete the album and release it as the band's swan song.
In her report, Judge Peterson found that the band's manager, Venerus, did nothing wrong and dutifully acted as a go-between for Vicky and the surviving band members. The judge also found that there was nothing to support Vicky's claim that Soundgarden hasn't been paying her what she is due.
Vicky's attorney, Marty Singer, said that his client plans to "vehemently object" to Judge Peterson's recommendations.
In February, Vicky filed a separate lawsuit against Soundgarden, asking a federal judge to decide the worth of Chris's stake in the band. She accuses Thayil, Cameron and Shepherd of undervaluing Chris's share and delivering her a "villainously low" buyout offer of less than $300,000, after being offered $16 million for its master recordings.
In a joint statement, the band members wrote that the buyout situation was "grossly mischaracterized and we are confident that clarity will come out in court."
This article was first published on iheart.com and is republished here with permission
Take your Radio, Podcasts and Music with you