Jimmy Eat World announce 'Static Prevails' 25th anniversary vinyl
Publish Date

Monday, 26 July 2021, 12:24PM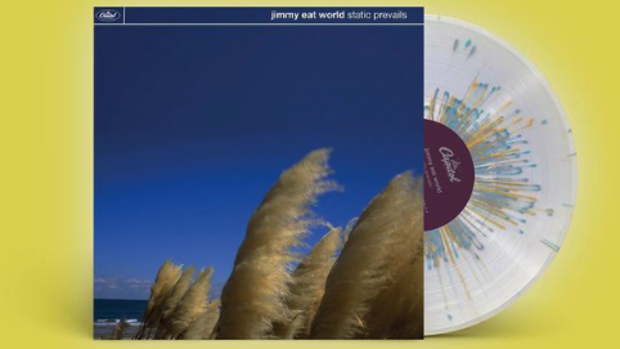 Jimmy Eat World's sophomore album Static Prevails turned 25 on July 23, and to celebrate the anniversary the band is releasing a special edition LP.
"We're excited to announce the Static Prevails @bandboxvinyl in celebration of the album's 25th anniversary!" they wrote on Instagram. "The Bandbox features the original album artwork for the first time since 1996, an exclusive 2xLP pressing on clear vinyl with tan and blue splatter, and a 16-page full zine about the making of the album including interviews and rare photos."
The LP is available for pre-order here and is slated to ship in December.
See Jimmy Eat World's post below.
The band also recently published a graphic novel based on their Surviving song "555."
"There was a fair bit of world-building around the characters for the 555 music video and it felt too interesting to end the story there… it screamed for a comic adaption," frontman Jim Adkins explained. "I gave Alex Paknadel the basics of the character backstories and he was able to conceptualize an amazing world that Koren Shadmi perfectly illustrated."
"The song 555 is about shifting your thinking from what you can gain to how you can contribute and the surprising reward that brings," he continued. "Based on that concept, our main character KLAARG works for an evil galactic empire as an overseer of a cloned work force and ends up battling with his own values as his purpose in the universe becomes threatened."
This article was first published on iheart.com and is republished here with permission