Jim Root finds decade-old unopened guitar box buried in his collection
Publish Date

Thursday, 28 January 2021, 1:05PM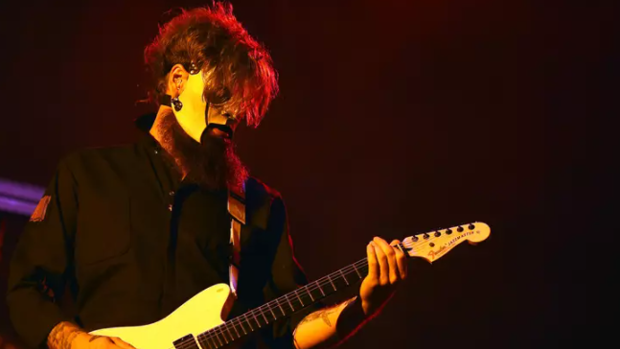 It should come as no surprise that a musician of Jim Root's stature would accumulate much more gear than he has time or space for over a 20-plus-year career.
From his time in Slipknot, Stone Sour and other projects, Root has earned plenty of accolades from fellow guitarists, he's bought a lot of gear and received his share of endorsements and gifts from guitar companies.
It's reasonable to assume that Root's home has seen its fair share of guitar boxes, but one that really stood out is a box that's somehow remained unopened for more than 10 years.
Root is decluttering his home, going through his cache of guitars to decide what he's going to sell and what he's going to keep. In a little over a week, he's shared more than a dozen photos of guitars he's unearthed, but the decade-old box from the Gibson Custom Shop has captured the imagination of his followers.
Root shared four photos of the unopened box, explaining that the shipping label indicates that the Silverburst Firebird arrived at his home in May of 2010. Somehow the box made its way to a spot with his other instruments and Root never got around to opening it.
So much time has passed, Root confessed that he doesn't remember why he ordered the guitar — it might have something to do with its 000004 serial number (Root's Slipknot alter-ego is #4) — but he's considering leaving the box unopened to preserve the mystery of it all.
"Could be the best guitar I ever played," he mused. "Could sound the best. Could have 'thing.' Could not. Could just be another Firebird that happens to be Silverburst. Maybe I'll never know."
While Root's followers are desperate to see what's inside, he seems convinced that the enduring mystery is more valuable than the payoff.
As commenters wondered how he could leave the box unopened, even now, Root suggested he has more than 100, "XXX other guitars" commanding his attention. When guitarist Tim Howley joked that there's "always room for more," Root replied, "[T]his is the 'problem.'"
The mystery guitar seems destined for Root's upcoming Reverb shop. He says he plans to sell a number of his guitars, along with some pedals and amplifiers via the site, just like Dave Mustaine, Rex Brown and Green Day have done in recent years.
More details on the shop will be announced "when that time comes."
This article was first published on iheart.com and is republished here with permission