Jerry Cantrell's new solo album rumored to feature GNR's Duff McKagan
Publish Date

Wednesday, 30 June 2021, 9:10AM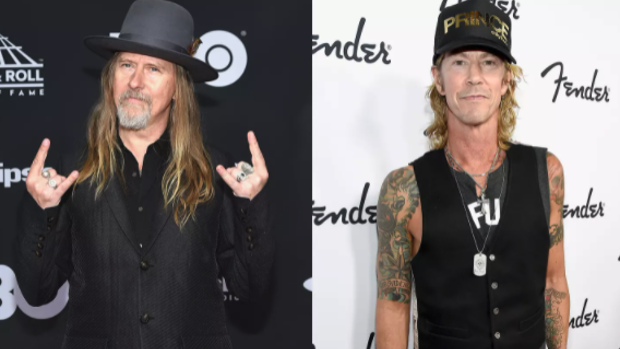 It seems Alice In Chains guitarist Jerry Cantrell tapped another famous Seattleite for his new album: Guns N' Roses bassist Duff McKagan.
McKagan was seen on set and wearing his bass during a recent video shoot with Cantrell in Los Angeles, according to photos leaked via Instagram. And given GNR's busy touring schedule this year, it's doubtful McKagan was there because he's joining Cantrell's solo band.
Cantrell himself did not share a shot of McKagan, though he did confirm Monday that filming for the album's first music video was complete.
Because Alice In Chains had a planned year off in 2020, Cantrell began plotting his first solo record since 2002's, Degradation Trip, early last year. While the pandemic drew out the length of time it took to complete the album, Cantrell confirmed in early-March 2021 that it was finally mixed and mastered.
It's no surprise that Cantrell's new album would feature some high-octane collaborators. Degradation Trip featured Metallica bassist Robert Trujillo (when Trujillo was still in Ozzy Osbourne's band) and Faith No More drummer Mike Bordin.
Cantrell has also heavily suggested that his new album features Dillinger Escape Plan frontman Greg Pusciato, who was on-hand for mixing and mastering.
McKagan, of course, is a longtime supporter of Alice In Chains and one of Cantrell's best friends. The two were together this past October, honoring former President Jimmy Carter for his 96th birthday.
Cantrell has yet to announce a release date for the record, though it's rumored to be arriving in October.
Take your Radio, Podcasts and Music with you