Is Rufus Taylor Foo Fighter's New Drummer?
Publish Date

Monday, 16 January 2023, 9:32AM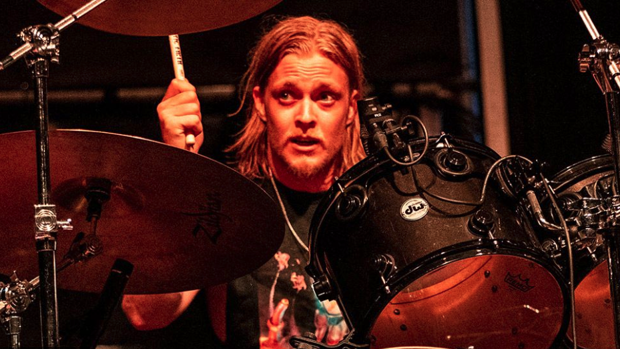 The Darkness drummer Rufus Taylor has commented on drumming with Foo Fighters and his close bond with the late-great Taylor Hawkins.
Rufus Taylor played drums on 'Best of You' and 'These Days' with Foo Fighters at Wembley Stadium, and the latter track at the Los Angeles concert 24 days later.
The 31-year-old also joined his dad Roger Taylor and Brian May on stage during the Queen segment of the star-studded concerts.
After confirming they were continuing as a band in a New Year's Eve message to fans, Foo Fighters announced their live return this week with a trio of headline concerts in North America.
Foo Fighters fans have been left guessing, however, about who will take Taylor Hawkins' place behind the drum kit. Rufus Taylor, Josh Freese and Taylor Hawkins' son, Shane Hawkins, are among the named being bandied around by fans.

In a new interview with Music Radar, Rufus Taylor has spoken about his incredibly close friendship with Taylor Hawkins and what it was like stepping into his shoes at the tribute concerts four months ago.
Describing Taylor Hawkins as "my hero, my mentor, my big brother", Rufus said he first met the Foo Fighters drummer aged six and "I was instantly just in love with the guy, I just thought he was the coolest person I'd ever met."
Rufus continued: "He was always really sweet to me. We just kind of clicked together immediately, and the more I grew up it was just strange how similar we were - a lot because I idolised him and everything - but we ended up like twins, in the end... He always supported every single thing I ever did."
Asked what it was like to perform at the Taylor Hawkins Tribute Concerts, Rufus said: "'These Days' was fine. 'Best of You' was scary because after the first stop, it's just an unmapped freestyle kind of thing."
Explaining he was "s---ing himself" going into rehearsals, Rufus commented: "I knew that it was gonna be a room full of the best drummers in the world, like Omar Hakim, Dave (Grohl), and Stewart f---ing Copeland, all these monster players.
"Obviously, I know Dave, but Stewart and Omar, all those guys - me and Taylor used to talk about them all the time. So now I suddenly have to go in and play a nine-minute solo in front of them! I still hadn't mapped it out in my head. I didn't know what was gonna happen. But it all kind of went really smooth in the end."
He added: "But seeing the Foos guys - they are like family to me - seeing them in rehearsals and then doing what my guy always did was quite surreal. But I had to just think, 'If he was in the room, would he be proud? What would he say?' He would just be egging me on, I know it. So that kind of thought got me through it. But yeah, it was nerve-wracking."
Take your Radio, Podcasts and Music with you