Hilarious unearthed letter to fans shows Nirvana's funny side
Publish Date

Thursday, 16 July 2020, 1:08PM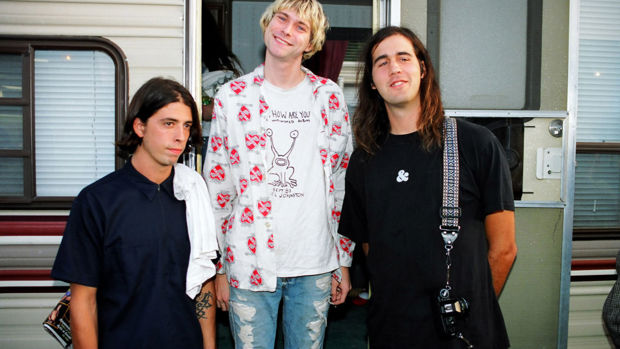 Nirvana's music was pretty heavy, but offstage Kurt Cobain, Dave Grohl, and Krist Novoselic were a trio of jokesters. They loved playing pranks on each other, and extended it to fans from time to time. Take, for instance, this hilarious handwritten letter to a fan Far Out magazine unearthed.
The tongue-in-cheek promotional correspondence was written before Nevermind came out, flinging the band into rock stardom, and states that the only way to receive the album is with purchase of a McDonald's Happy Meal. "It will not be available in stores, just like another project NIRVANA has been working on, NIRVANA PLAY CHARIOTS OF FIRE AND OTHER HITS," they wrote. "It will only be available through a special T.V. offer. And, as an added bonus, a book called NIRVANAS [sic] CRAFT SECRETS will be offered."
In addition to these projects, the band also announced they would be "doing a tour of shopping malls and county fairgrounds to promote our new record and book of craft secrets" and was also recording "a video cassette demonstrating how to have a tranquil day at the beach collecting driftwood and sea shells, and how to make the memory last by constructing a wall hanging with what you have found."
AMAZING.
Read the full unearthed letter below.

Thanks for writing! Here at NIRVANA Central, the switch boards are buzzing, the conveyor belts are moving fast, and the crews are working double shifts towards the Septemeber [sic] 24th release date. The band, being the benevolent friends of the proleteriet [sic] that they are, just raised the coolies pay 10¢ to an even $1.50 an hour. The same price as the ALL AMERICAN MEAL at McDONALDS™.
NIRVANA, in special conjunction with McDonalds™, are proud to announce the NEVERMIND HAPPY MEAL™. The only way to receive NEVERMIND is when you buy the HAPPY MEAL™. It will not be available in stores, just like another project NIRVANA has been working on, NIRVANA PLAY CHARIOTS OF FIRE AND OTHER HITS. It will only be available through a special T.V. offer. And, as an added bonus, a book called NIRVANAS CRAFT SECRETS will be offered. It will show you all of our special touches for those sea shell macrame plant hangers and spray painted macaroni paperweights and much much more.
We are also doing a tour of shopping malls and county fairgrounds to promote our new record and book of craft secrets.
Also in the planning is a video cassette demonstrating how to have a tranquil day at the beach collecting driftwood and sea shells, and how to make the memory last by constructing a wall hanging with what you have found. We'll have tranquil New Age music, along with step by step instructions so you can relax while you work. Rainbow and unicorn stickers will also be included. Look for it in 92.
Well thats [sic] all for now folks. See you soon.
Yours truely [sic],
Kurdt, Chris, Dave.

This article was first published on iheart.com and is republished here with permission