Guitars owned by Eddie Van Halen & Kurt Cobain are up for grabs
Publish Date

Tuesday, 20 October 2020, 10:56PM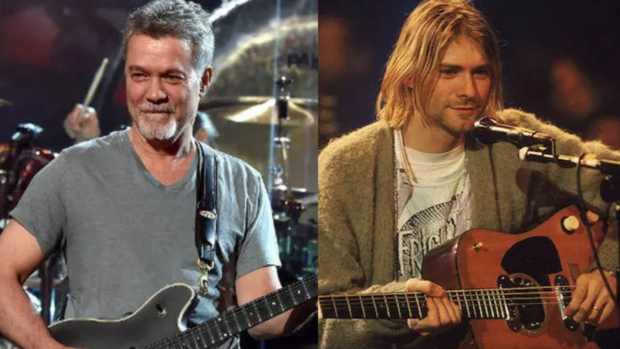 If you've ever wanted to own a piece of rock 'n' roll history, Julien's Auctions has your shot — but it won't be cheap.
The famed auction house's "Icons & Idols Trilogy: Rock 'N' Roll" event will take place in person and online December 4th and 5th. It'll feature incredible one-of-a-kind personal items from Eddie Van Halen, Nirvana's Kurt Cobain, Aerosmith, David Bowie, Queen and more.
Two of the late Eddie Van Halen's iconic guitars will be up for auction: Van Halen's iconic custom 2004 red and white-striped EVH Charvel Art Series electric guitar, and a black-and-white striped Fender Stratocaster (signed by the rock legend). The bidding for these guitars are projected to reach over $40,000 each.
"As we were preparing for our annual 'Icons & Idols: Rock and Roll' auction lineup, we were stunned to hear the sad news of Eddie Van Halen's passing last week," Julien's Auction's president Darren Julien said in a statement. "We are honored to include at this event two of his iconic guitars from his brilliant and blazing career as one of rock's greatest and most gifted guitar heroes."
Additionally, Kurt Cobain's smashed 1994 In Utero Tour Fender Strat, which he gave to a fan after the show, will be auctioned off. This one will probably fetch quite a bit of money as Cobain's MTV Unplugged guitar sold for over $6 million this year.
Over 700 artifacts will be hitting the auctionblock and others include Aerosmith's Moonman award from the VMAs, gloves worn by Michael Jackson, a cocktail dress worn by Madonna, a belt worn by Elvis and so much more.
This article was first published on iheart.com and is republished here with permission