Guitar used by Izzy Stradlin on Guns N' Roses' debut headed to auction
Publish Date

Sunday, 21 March 2021, 10:36AM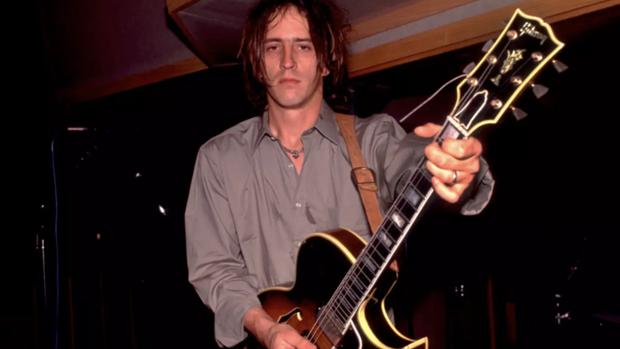 A guitar purportedly used by Izzy Stradlin during the recording of Guns N' Roses' iconic debut album, Appetite for Destruction, is headed to auction.
The Gibson ES-175D hollow-body electric guitar in Arctic White is listed via Backstage Auctions with a starting bid of $50,000.
According to the listing, Stradlin got the guitar from Gibson in 1987, shortly before GNR began recording Appetite. He went on to use the guitar in the studio and in concert, including during Guns N' Roses' famous 1988 concert at The Ritz, which was filmed by MTV.
Shortly after playing The Ritz, Stradlin sold the guitar to Guitars R Us in Hollywood in order to pay a debt to GNR's manager at the time, Howie Hubberman. It was quickly purchased by a friend, who owned the guitar for the next 32 years. Last year, the guitar was sold to a music industry executive who has now put the instrument up for auction.
In a 1993 interview with Guitar World he elaborated upon his affinity for jazz boxes.
"I like Les Pauls but the hollow bodies are great because I can play them in hotel rooms or anywhere without an amp," he said. "I just love the look, the feel and the sound those things get."
The guitar, which has serial number 80787552, was completed by Gibson on March 19, 1987, and shipped to Stradlin soon after.
Guns N' Roses began writing/recording sessions for Appetite in January of '87, but did not complete the album until June of that year.
The listing, which is still in preview ahead of the auction, makes note of "critical details" on the guitar that tie it to Stradlin, however there is no mention of a certificate of authenticity included with purchase.
Get more details on the auction here.
This article was first published on iheart.com and is republished here with permission