Former Van Halen Bassist Michael Anthony Forms New Band with Members of Bon Jovi, Aerosmith
Publish Date

Monday, 27 March 2023, 10:34AM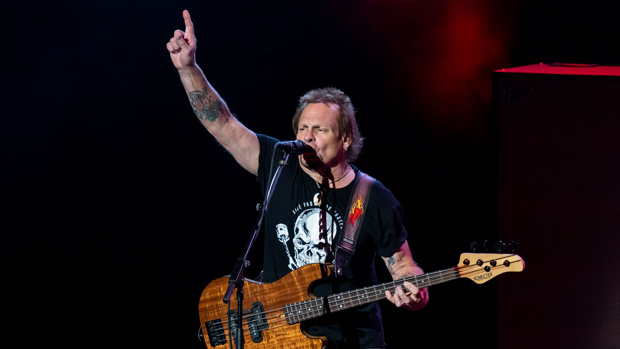 Ex-Van Halen bassist Michael Anthony has revealed that he's formed a new band with Bon Jovi guitarist Phil X and current Aerosmith touring drummer John Douglas. There's also a "really cool singer" on board, but Anthony is choosing to keep that a mystery for now.
Anthony, who's currently the bassist for Sammy Hagar and The Circle, opened up about the project in a new interview on SiriusXM's Trunk Nation with Eddie Trunk. When asked about his career trajectory if Hagar were to retire from performing, Anthony let the cat out of the bag.
"Well, I wasn't going to mention anything about it," Anthony said [as transcribed by Blabbermouth], "but there is a little side project thing that I've kind of been speaking to some people, and might be doing a couple of things with. I don't wanna get ahead of myself and mention too much, but it might involve Phil X and John Douglas."
Anthony elaborated: "I've known J.D. for many years, since he's worked with Van Halen… What a great guy. And we do have a singer. I don't wanna mention any names, but a really, really cool singer. And we're recording just for fun right now, some stuff. That's all I can say."
Anthony appeared on SiriusXM to promote the Save the Heartbeat benefit concert on Saturday (March 25th) at Tiki Bar in Costa Mesa, California. The bassist is set to perform along with Phil X, Hagar, and John 5, among others.
Aside from working with Hagar, Anthony has remained estranged from the Van Halen camp for years, having not been invited on the band's reunion tour with David Lee Roth in 2007 and being subsequently replaced by Eddie Van Halen's son Wolfgang on bass.
A prospective Van Halen tribute tour was slated to feature ex-Metallica bassist Jason Newsted, though the lineup never came to fruition. Adding fuel to speculation, Roth posted his ideal Van Halen tribute lineup, which happened to include Newsted and Anthony.
This article was first published on consequence.net by Jon Hausek
Take your Radio, Podcasts and Music with you