Flea says Andy Gill shaped his "aesthetic and approach to music profoundly"
Publish Date

Friday, 19 March 2021, 12:17PM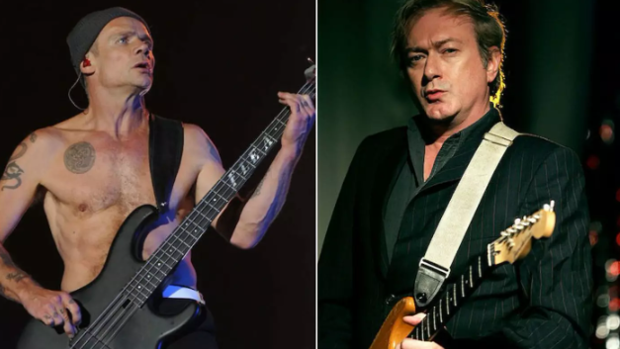 Flea is one of over a dozen artists paying tribute to Andy Gill on the upcoming album The Problem of Leisure: A Celebration of Andy Gill and Gang of Four; however, his relationship with the late Gang of Four guitarist was a complicated one.
During an interview with The Guardian, the Red Hot Chili Peppers bassist reflected on the tumultuous experience of recording RHCP's self-titled debut album with Gill in 1984. The process was riddled with disagreements and Gill later accused the band of "ripping off" a Gang of Four song.
Fast forward to 2018, and Gill called up Flea to participate in The Problem of Leisure project (the compilation was originally planned to celebrate the 40th anniversary of the band's debut album Entertainment!, before Gill's unexpected death last year).
"[We] talked about everything, about that remark and why it hurt my feelings – that we had our own thing, but were grateful for the influence he had on us. He said he hadn't meant it like that," Flea recalled. "We talked about the arguments while recording our album and I apologised for anything I did that was offensive and he did, too. At the end, I was able to talk to him on the phone and say, 'Andy, I love you.'"
"I'm so glad I was able to tell him that, and to mend the fence and re-establish a friendship with someone who shaped my aesthetic and approach to music profoundly," he added.
The Problem of Leisure is slated for a May 14 release and will feature Flea and his RCHP bandmate John Frusciante taking on "Not Great Men" and Tom Morello and System of a Down's Serj Tankian's explosive cover of "Natural's Not In It."
See the full tracklist below.
The Problem of Leisure: A Celebration of Andy Gill and Gang of Four Tracklist
Vinyl One, Side A
1. IDLES – Damaged Goods (UK)
2. Tom Morello & Serj Tankian – Natural's Not in It (USA)
3. Helmet – In the Ditch (USA)
4. 3D* x Gang of Four feat. Nova Twins – Where the Nightingale Sings (UK)
5. Hotei – To Hell With Poverty (Japan)
Vinyl One, Side B
1. Gary Numan – Love Like Anthrax (UK)
2. Gail Ann Dorsey – We Live as We Dream, Alone (USA)
3. Herbert Grönemeyer feat. Alex Silva – I Love a Man in a Uniform (Germany)
4. LoneLady – Not Great Men (UK)
5. JJ Sterry – 5.45 (UK)
The Problem of Leisure:CD Two
Vinyl Two, Side C
1. La Roux – Damaged Goods (UK)
2. Everything Everything – Natural's Not in It (UK)
3. Dado Villa-Lobos – Return the Gift (Brazil)
4. The Dandy Warhols – What We All Want (USA)
5. Warpaint – Paralysed (USA)
Vinyl Two, Side D
1. Flea & John Frusciante – Not Great Men (USA)
2. The Sounds – I Love a Man in a Uniform (Sweden)
3. Hardcore Raver in Tears – Last Mile** (China)
4. Killing Joke x Gang of Four – Forever Starts Now (Killing Joke Dub) (UK)
5. Sekar Melati – Not Great Men (live version) (Japan)
* 3D is the remix name of Robert Del Naja from Massive Attack
** "Last Mile" is the new title for this cover of "Broken Talk", reflecting new lyrics sung in Mandarin by Hardcore Raver in Tears
This article was first published on iheart.com and is republished here with permission