Elton John says he recorded with Metallica during quarantine
Publish Date

Tuesday, 30 March 2021, 10:09AM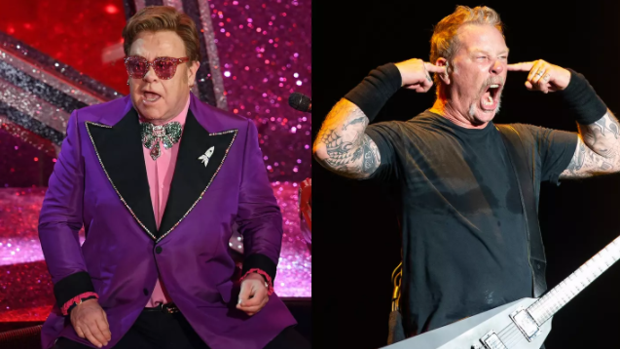 Elton John still has no plans to record new music for himself, but the Rock and Roll Hall of Famer has been busy with several unlikely collaborations over the past year or so.
Sir Elton revealed in a recent interview that his latest collaboration was with Metallica, though he left the rest up to speculation.
"I've just done something with Metallica," the Rocketman said. "During this lockdown period. I've been working with Gorillaz and people like that. I haven't been doing any Elton stuff, but I've been doing great stuff with other people."
Metallica has been chiseling away at material for a new album since their 2020 tour dates were canceled due to the COVID-19 pandemic. But with all four members in different cities, the band has struggled to schedule in-person writing/recording sessions amid the pandemic.
Drummer Lars Ulrich has explained that the band had experimented with writing via video conferencing platforms, but insurmountable lag issues have prevented the band from being able to jam in time.
It's unclear where Metallica stands with its new material. Ulrich has suggested that significant progress has been made, but also that new songs are being completed at an interminably slow pace.
Recording with John wouldn't be the first time Metallica strayed from its heavy metal roots, either. In 2011, Metallica released its infamous Lulu double-album with Lou Reed. In 2017, the band performed at the GRAMMYS with Lady Gaga.
John has been a longtime friend of the band; he even attended one of Metallica's S&M 2 live concerts in September 2019.
And collaborating with Metallica wouldn't be his first foray into the heavy metal genre. John featured on the title track of Ozzy Osbourne's last studio album, Ordinary Man, playing piano and performing lead vocals alongside the Prince of Darkness.
Metallica's last studio album was 2016's Hardwired...To Self-Destruct.
Despite the band's complaints of barriers to their new music, all four members have gotten together in person on a number of occasions since the 2020 lockdowns. This calendar year alone, the band recorded two performances for The Late Show with Stephen Colbert.
This article was first published on iheart.com and is republished here with permission